HANNAH HÖCH
All Beginnings are DADA!

FROM JANUARY 16 TO MAY 4 2008

The first extensive survey in Switzerland dedicated to Hannah Höch, the sole woman member of the group Dada Berlin.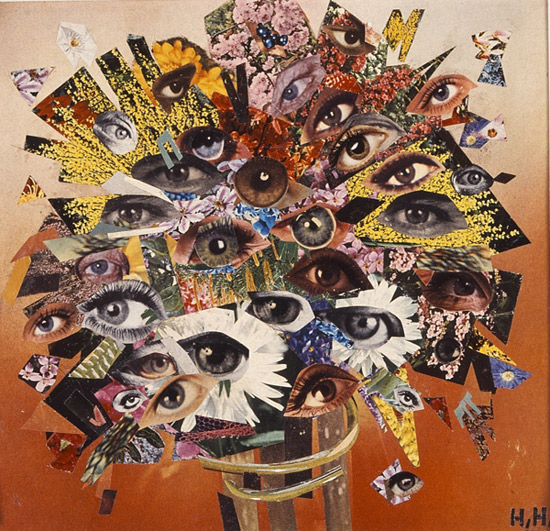 Hannah Höch, Strauss, 1929-1965 Collage on paper Germanisches Nationalmuseum, Nürnberg. On loan from a private collection © 2008 ProLitteris, Zürich. © Photo: Germanisches Nationalmuseum, Nürnberg



The exhibition, which covers the whole career of Hannah Höch (1889—1978), starts with her early Dada years during and immediately following the First World War. It goes through the 1920s, a fertile phase in her career during which she was in contact with numerous important avant-garde artists such as Kurt Schwitters or Hans Arp. She collaborated in part with them, producing masterly collages, profound yet ironical. During the 1930s and '40s, she worked in total retirement and secrecy – and her works contain a cryptic criticism of the National Socialist regime. Her late works, in which she appears to anticipate Pop Art by her themes and colours, were her reaction to new scientific discoveries of the day. To close the exhibition, a section is dedicated to Höch's garden – a recurrent theme throughout the artist's oeuvre.


In defence of individual liberty

Having exhibited in the course of the last years various important artists of the Dada movement, the Museum Tinguely is the ideal platform for a presentation of Hannah Höch's work. But, as the constant defender of individualism, Höch is furthermore close to the kinetic artist Jean Tinguely and his source of inspiration, anarchism. The exhibition was conceived in close collaboration with the Berlinische Galerie, seat of the Hannah Höch archives; it is organised in a chronological order and divided into five sections, opening with Höch's large-scale photo-collage Lebensbild that the artist created in 1972/1973 so to speak as a sort of visual autobiography. The collage harks back to numerous important works that the visitor can encounter throughout the exhibition.


European friendships

Hannah Höch was born in 1889, into a middle-class family in Gotha, where she spent her youth. In 1915, during her studies in Berlin at the Institute attached to the Museum of Applied Arts, she met Raoul Hausmann, with whom she had a relationship until 1922; the affair was a passionate but difficult one (Hausmann had been married since 1908). Though difficult for Höch in her private life, these years were extremely fruitful for her as an artist and the young woman was able to assert her position within the male circle of egocentric Berlin Dadaists – Hausmann, Johannes Baader, George Grosz, Richard Huelsenbeck and John Heartfield – through her masterly, though amusing-symbolical collages and objects like Dada-Rundschau. In the 1920s, Höch travelled and developed a network of friendships throughout Europe with artists such as Hans Arp, Theo von Doesburg, Piet Mondrian and Kurt Schwitters. Staying with friends in Holland in 1926, she met the authoress Til Brugman with whom she lived until 1935. In these years, Höch created a varied and multiple œuvre that reflects her urge for personal and artistic freedom and feeds upon her earlier activity in the applied arts of fashion and illustration.




During and after the Nazi nightmare

Under the Nazi regime, the hostile climate and banishment led Höch to retire all the more within herself. In 1939, she retired to a small house in Berlin-Heiligensee, where she was able to save herself as well as numerous works of art of her avant-garde friends from seizure by the Nazis, and also where she could work in secrecy. Paintings such as Die Spötter or Wilder Aufbruch are a clear-sighted commentary of the circumstances that prevailed and in which critical voices were silenced brutally. The end of the Second World War meant for Hannah Höch as for many other artists, freedom from their artistic gag and the end to an existential threat. Until her death in 1978 she continued to produce a valid and virtuoso late oeuvre that received strong impact through colour photography that was increasingly available. The exhibition presents a number of these virtuoso collages in which the artist literally works with the colours of the sections at her disposal as with "paint". The plant appeared to Höch to be an image altogether of human existence and the garden a place of freedom and beauty. The last room thus presents works from various phases in her career on the theme of nature. Various films show the artist in her "vegetal collage".


PUBLICATION:

The catalogue is published by Hatje Cantz, with texts by Ralf Burmeister, Maria Makela, Werner Hofmann, Karoline Hille, Bettina Schaschke, Jörn Merkert and Janina Nentwig. c. 220 pp., num. col. and b&w ill. German edition, bound with dustcover, as well as a special brochure for the Basel venue with texts by Guido Magnaguagno and Heinz Stahlhut, and an illustrated list of works, CHF 59.


Illustration: Hannah Höch, Englische Tänzerin, 1928 Collage on paper Institut für Auslandsbeziehungen e.V., Stuttgart © 2008 ProLitteris, Zürich. © Photo: Institut für Auslandsbeziehungen e.V., Stuttgart and Liedtke & Michel


To see more illustrations, click on VERSION FRANCAISE at the top of this page

TINGUELY MUSEUM
Paul Sacher-Anlage 1, 4002 Basel

INFORMATION:
Tel: +41 (0)61 681 93 20 Fax: +41 (0)61 681 93 21 Site: www.tinguely.ch

OPENING HOURS:
Tuesday to Sunday: 11am-7pm. Closed Monday

ENTRANCE FEES:
Adults: CHF 15. Students, trainees, seniors: CHF 10. Free under 16.

CURATOR:
Heinz Stahlhut Tel: + 41 (0)61 688 97 93. E-mail: heinz.stahlhut@roche.com

PRESS CONTACT:
Laurentia Leon Tel: +41 (0)61 687 46 08. E-mail: laurentia.leon@roche.com