FOURTH WORLD FESTIVAL OF NAIVE ART

FROM MARCH 22 TO APRIL 27 2008

120 artists from 28 different countries present the best of contemporary naïve art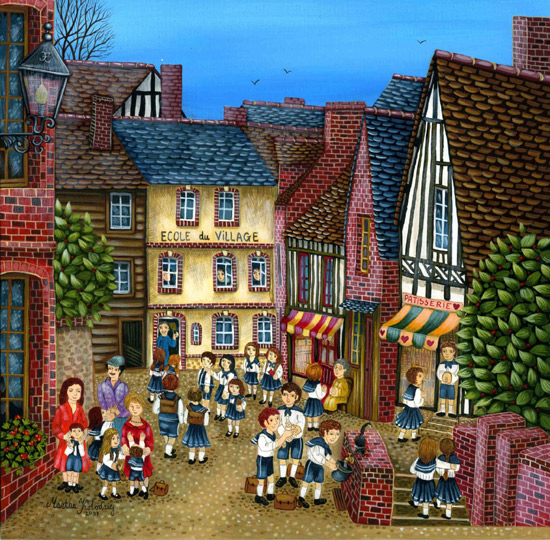 Martha KOLODZIEJ

The Festival of Naïve art, born in 2005 in a remarkable site -the former Saint-Laurent de Verneuil-sur-Avre church, turned into a wheelwright workshop during the French Revolution- and marked by continuous growth, will hold its 4th edition. The first encounter welcomed 39 artists and 3700 visitors. Last year, in 2007, 93 artists and 5500 visitors took part in the event.


Resident artists

The cultural program of this edition will see the arrival of various resident painters. Polish sculptor Eugeniusz ZEGADLO, already present in April 2007, will be back with a compatriot to create, in front of the visitors, monumental, 3-meter tall sculptures. This action could lead in the future to a symposium of monumental figurative sculptures. 25 year-old Inoussa Simporé called Inno, another resident artist, is from Burkina Faso. He has painted advertising billboards since the age of 12, just like the famous Russian naïve painter Niko Pirosmani. It is easily understood that one of the fundamental objectives of the Festival is to unveil new talents.




The United-Kingdom, guest country

In total, over 800 works by some 120 artists from 28 countries, from Germany to Ecuador, from Indonesia to Ukraine, will be exhibited. Various techniques are represented: painting, sculpture, ceramics, tapestry with a novelty this year, painting on pebbles. To face these developments, a second exhibition area will be set up at the Espace Saint-Laurent. It is the cloister of the former Saint- Nicolas abbey, of the beginning of the XVIIth century, in which the Benedict monks lived cloistered until 2001. On loan by the bishop of Evreux, it is the most beautiful private building in the town of Verneuil. It will host the resident artists, the paintings on the theme of marriage and the English naïve painters. Indeed, the United-Kingdom is the guest country this year. The 2007 Prize of the Public had been awarded to an English female painter, Linda Frances Trott, who had the honor of making the poster for the 2008 edition: it is a painting representing a wedding at the Verneuil town hall.

Illustration by Roger DJIGUEMDE


Workshops and contests

For the fourth year, elementary classes will be admitted, and their number keeps on growing. It is for them actually that the event was placed a week earlier. The theme suggested to them this year is marriage. A great drawing contest is organized, with a real jury, to give children the desire to draw again. For the public at large painting workshops have been set up, given by renowned painters from different regions. The participants to these workshops will leave after a week with a painting in their hands … Guided visits are also organized by the painters present to explain naïve art and share their passion with the visitors. The latter are invited to vote for their favorite artist: the Public's Prize will be handed at the end of the Festival, on Sunday 27 April.

ESPACE SAINT-LAURENT ET ABBAYE SAINT-NICOLAS
27130 VERNEUIL-SUR-AVRE

INFORMATION:
TEL. 02 32 32 17 17 (Office de Tourisme) Website: www.festival naif.com

OPENING HOURS:
Every day from 2:30 to 6:30 PM

ENTRANCE FEE:
Free

PRESS CONTACT:
Tel: 02 32 32 69 45