CHARLES LAPICQUE

FROM 16 APRIL TO 13 SEPTEMBER 2008 Opening on Tuesday 15 April from 6 to 9 pm


From Abstract painting to Realist works, a very colorful itinerary that crosses all of the XXth century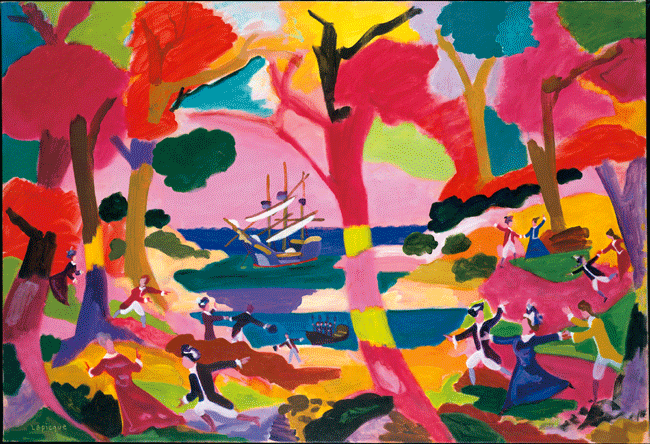 CHARLES LAPICQUEL'embarquement pour Cythère, 1980, private collection © photo Jean-Louis Losi Charles Lapicque © Adagp Paris 2008

This large retrospective dedicated to Charles Lapicque, with 85 paintings, most of them emblematic, and 60 drawings from different museums (Pompidou Centre, museum of Art moderne de la Ville de Paris, the museums of Dijon and Besançon), is the first in the last 40 years. It shows that the artist, attached to the New School of Paris, is one of the most original of the XXth century and an innovator, in particular in his use of color and space. His work echoes those of medieval, baroque and modern painting


The butcher's wife and the transformers

Born in 1898, Charles Lapicque died in 1988. Throughout his long career his work was both disconcerting and seductive, from the most conventional painting to works that either Mondrian or Jacques Villon would have gladly claimed as their own. He painted, almost simultaneously, transformers, automobiles, a butcher's wife, a roast, landscapes, still lives, or even sails of boats. This surprising variety, expressed in a seductive palette that is served by perfect technical control, somehow reflects his life: after being an employee of the electric distribution in Normandy, he took up his studies when the crash of 1929 hit France and presented his doctorate, with a thesis on L'Optique de l'œil et la vision des couleurs (The eye's optic and the vision of color). Lapicque was not only an artist but a champion tennis-man as well and was included on the list of the Just by the State of Israel for his activity during W W II.


With Lipchitz's support

Charles Lapicque started his first paintings before 1920. He repeated though that he had only started painting in 1939, since he considered his work prior to that time not important. Yet it is interesting for various reasons, for it proved that the artist as a young man was immediately in phase with his time and that early on he explored, in his own manner and with talent, the aesthetic research of the moment, and then placed it in his works. The fact they are quite mismatched disconcerts us and yet we appreciate their boldness. Lapicque, while slipping with ease from one manner to another, did not dissipate his talent but rather proved to be a born researcher, who would remain avid for discoveries all of his life. The sculptor Jacques Lipchitz noted this right away and recommended him to Jeanne Bucher. The gallery owner organized his first exhibition in 1929.




Experiences with color

1939 remained nevertheless the year in which his past research on the grading of colors in space helped him reach his personal success. Lapicque conquered his personality of a creator by assimilating all the contributions from his predecessors - we can mention among his influences glass blowers, earthenware and tapestry makers, as well as Cézanne, the Cubists, Dufy, whom he admired for his «limpidity, the unusual transparency of the world » and of course Matisse and Delaunay. Lapicque himself participated in the renewal of Abstract art, and became in turn a master for his peers. After the war, Lapicque also produced landscapes, series on history, on race tracks, on the countries he visited, from Italy to the Algerian desert, up to a rococo ensemble on chocolates and sugared almonds, thus proving the diversity of his art and of his motifs of inspiration…


In 2009, three museums will associate to co-produce an exhibition on Charles Lapicque, bringing together oil paintings, acrylics, drawings, tapestries and sculptures. The exhibition will show at the Musée de l'Hospice St Roch in Issoudun from 13 March to 31 May 2009, at the Musée Unterlinden in Colmar from 15 June to 8 November 2009, and at the Musée de l'Abbaye Sainte-Croix at Sables d'Olonne from 15 December 2009 to 15 March 2010. To coincide with these events a richly illustrated monograph will be published and will aim at demonstrating the innovating character of the artist's work.


Illustration: CHARLES LAPICQUE Jeanne d'Arc traversant la Loire, 1940, oil on canvas 100 x 81 cm, private collection © photo Jean Bernard Charles Lapicque © Adagp Paris 2008


To see more illustrations, click on VERSION FRANCAISE at the top of this page

MUSÉE DE LA POSTE
34 boulevard de Vaugirard – 75015 PARIS

INFORMATION:
Tel : 01 42 79 24 24 Website : www.museedelaposte.fr

OPENING HOURS:
Open every day, except for Sundays and holidays, from 10 AM to 6 PM.

RATES:
Normal rate 6.50 €, reduced rate: 5 €. Free for those under 13.

CURATOR:
Josette Rasle

SCENOGRAPHY:
Patrick Bleau

PRESS CONTACT:
Marie-Anne Teulat Tél : 01 42 79 23 29 E-mail : marie-anne.teulat@laposte.fr