MOSCOW WORLD FINE ART FAIR
FROM MAY 27 TO JUNE 2 2008

One of the most exclusive fairs brings together 82 international dealers in all areas of the art market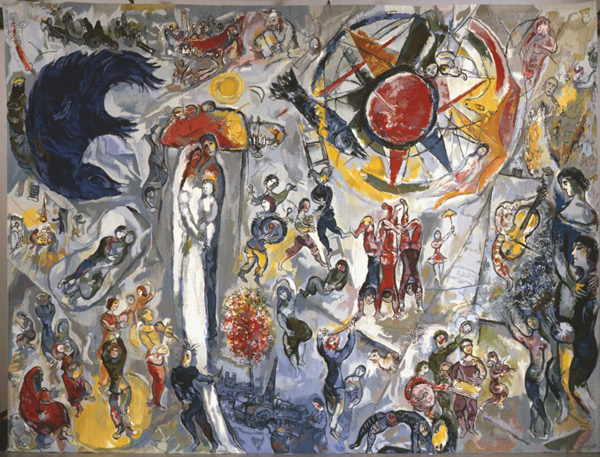 Marc Chagall, La Vie 1989, 360 x 475 cm. Tapestry by Yvette Cauquil-Prince, after a painting done for the opening of the Maeght Fondation in 1984. Jane Kahan Gallery



The Moscow World Fine Art Fair (MWFAF) celebrates its fifth edition with a return to the historic Manège, one of the most treasured and beautiful neo-classical buildings in the Russian capital and its largest cultural complex. The Moscow World Fine Art Fair is a showcase for fine jewellery, sculpture and the fine and decorative arts. Last year it attracted 45,000 visitors, who viewed over 6,000 objects valued at more than 1 billion euros.




Dealers and awards

Founded in 2004 The Moscow World Fine Art Fair brings together this year 82 dealers from Russia, France, Monaco, Italy, Germany, Austria, UK, USA, Israel, Bulgaria, the Philippines and Switzerland. 11 new galleries join including London dealer Ivan Lindsay, who set up a specialist Russian Art division in 2004. Other new dealers include Jane Kahan Gallery (New York), Die Galerie (Frankfurt), Artvera (Geneva), Erdesz & Maklary (Hungary), Galerie du Post Impressionisme and Gallery Strouk from France, Lauraine Diggins from Australia, Riccardo Rossi from England. Most of the returning exhibitors have requested larger stands this year, reflecting the importance of the Fair and its commercial viability. Three fine art prizes will be awarded by art and jewellery professionals from outside the trade, and announced at the press conference on Tuesday May 27th. The awards pay tribute to the contribution of the exhibitors in various categories including the most remarkable object at the Fair, the most influential persona in the art or jewellery industry, and the best presented stand at the Fair.

Illustration: Anthony Van Dyck Portrait of the Cheek Sisters; Essex Countess of Manchester and Anne Lady Rich />, Oil on canvas, 130.8 x 149.2 cm Lindsay Romero Paintings




Russian art and auction houses

The presence of contemporary Russian art is strengthened at the Fair this year with the addition of 3 new galleries from Moscow. Bogema and Galleries Tri Veka and Proun join established dealers including Aidan, the only official Moscovan gallery which dealt in art during the communist regime. Major Russian artists such as Oleg Kulig, Dubosarsky and Vinogradov are exhibited at the gallery XL, which has been active since the beginning of Perestroika, whilst Marat Guelman represents AES + F, and Koshliakov. In an unprecedented move, leading international auction houses like Bukowski (Sweden) and Dorotheum (Austria) have been invited to participate. Yves Bouvier, President and founder of the fair, explains his decision: "One cannot deny the synergy between the dealers and the auction houses. Russian collectors have proven their serious intent to pursue art and antiques, breaking records as they go"
Illustration: A pair of blue glass vases with covers, from the Imperial glass factory, St Petersburg, 1790's. Bukowski Auktioner AB




A strong jewellery section

The MWFAF is renowned for its fine jewellery sector. New jewellery dealers Harry Winston (New York), Moboco (California) and Wallace Chan (Hong Kong) will join past exhibitors Avakian, Bulgari, Chatila, Van Cleef & Arpels, Sabbadini and David Morris, and Chanel, who return this year after a one year absence due to opening a boutique in Moscow. Russian jewellers Smolensk Diamonds, Jewellery Theatre (Moscow), who won the Fine Art Awards for the best stand last year, and Guriaty (Vladivostok) are renowned for their original and extremely fine craftsmanship, and have remained faithful to the Fair since the inception of the jewellery wing. Luxury import houses including Mercury and Louvre also have a major presence at the fair and represent all major names such as Tiffany's, Chopard, Mikimoto, and Graff.


PUBLICATION:


llustration: A Brilliant Cut Diamond Necklace, Moussaieff Jewellers Ltd


To see more illustrations, click on VERSION FRANCAISE at the top of this page

THE MANEGE
1 Manezhnaya Square, Moscow, Russia

INFORMATION:
ArtCultureStudio Tel 41 22 906 1520 Fax 41 22 906 1588 Website : www.moscow-faf.com
Mail : sixtine.crutchfield@artculturestudio.com

OPENING HOURS:
Public hours: Daily 2 pm – 6 pm ; VIP 7 pm – 9 pm (Thursday VIP Night Owls 7 pm – 11 pm), Monday June 2 closes at 9 pm.

VERNISSAGE:
VIP Opening, by invitation only, Tuesday 27, 7 pm - 9 pm

ENTRANCE FEES:
rbl 450

PRESS CONTACTS: