FERNAND LÉGER
Paris-New York
FROM JUNE 1 TO SEPTEMBER 7 2008


A retrospective showing for the first time Léger's influence on American art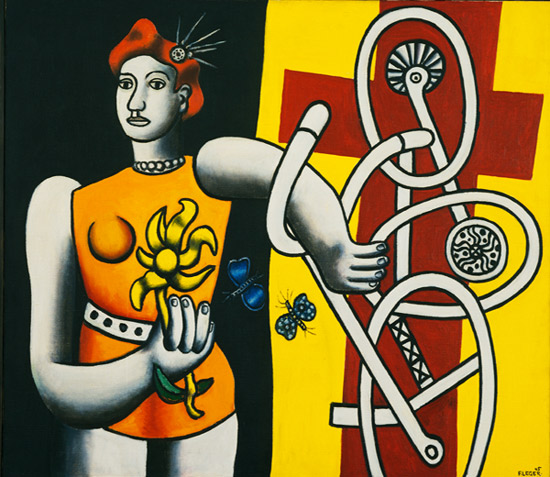 Fernand Léger La grande Julie, 1945 Oil on canvas, 111.8 x 127.3 cm Museum of Modern Art (MoMA), New York © 2008,
Digital image, The Museum of Modern Art, New York/Scala Florence

Fernand Léger (1881-1955) is a classic. The cool style and bold color of his paintings wrote a chapter in art history. Represented with several major works, Léger is a key artist in the Beyeler Collection as well. In fact, his famous statement that the pretty is the greatest enemy of the beautiful became the motto for Ernst and Hildy Beyeler's collecting activity - sufficient reason for the Fondation Beyeler to devote a large special exhibition to the artist.




From Cubism to Tubism

This is a concentrated retrospective, a review of the key phases of Léger's career from 1912 to 1955. The overture is formed by the Cubist-influenced early work, executed in Paris, centered around Femme en bleu and the Contrastes de forme, followed by the legendary, post-World War I series of canvases on the theme of the city and modern technology La ville, Les disque). By way of the formally highly developed still lifes and figurative paintings of the 1920s and 30s - including famous "Tubist" works of the 1920s - the exhibition leads to monumental canvases from Léger's American exile in 1940-45, such as the spectacular paintings on the key theme of Plongeurs, or Divers. The conclusion is formed by the Constructeurs< and the large formats of the final years, in which Léger treated sumptuous color and drawing separately, in an unprecedented way. Selected works on paper and Léger's important experimental film, Ballet mécanique, of 1924, supplement the show, which is based principally on paintings. Léger is revealed to have been one of the greatest style-shaping artists of modernism across its whole range...




llustration: Fernand Léger Composition aux trois femmes (Trois femmes sur fond rouge), 1927 Composition with Three Women (Three Women on Red Ground) Oil on canvas, 140 x 97 cm Musée d'art moderne, Saint-Étienne © 2008, ProLitteris, Zuric


Leger inspired by America

Apart from reviewing the classical phases of Léger's career, the exhibition has a special focus, as suggested by its subtitle - the artist's links with America. Unlike, say, Picasso, Léger traveled there several times (in 1931, 1935 and 1938) and spent a considerable period, 1940-45, in U.S. exile, especially in New York. A number of major works emerged there, often as the result of commissions, of which a few central ones are on view in the exhibition, as designs or in finished form. These include the designs for Nelson A. Rockefeller's residence in New York, and the monumental, ten-meter-wide mural Les plongeurs, painted on commission from the architect Wallace K. Harrison in 1942 on Long Island, and sensationally on loan here from the Museum Ludwig in Cologne.




...and America inspired by Léger

The influence was reciprocal, for Léger's art fed back into that of his host country. The focus is on leading representatives of the Pop Art generation who were highly receptive to Léger: Roy Lichtenstein (1923-1997), Ellsworth Kelly (*1923), Kenneth Noland (*1924), Robert Rauschenberg (*1925), Al Held (*1928-2005), Andy Warhol (1928-1987), Jasper Johns (*1930), James Rosenquist (*1933), and Frank Stella (*1936). These artists sometimes make quite direct reference to Léger, or have developed conceptions whose European fundamentals were largely passed on through his art. A good example is the assembly-like composition preferred by Léger, in which the above named artists were especially interested. Works by these artists, as "special guests," are interspersed in the chronologically arranged Léger rooms.


PUBLICATION

Catalogue, with essays by Christian Derouet, Brigitte Hedel-Samson, Yve-Alain Bois, Philippe Büttner, Raphaël Bouvier, and Daniel Kramer, an interview with Roy Lichtenstein by Katherine Jánszky Michaelsen, and a detailed biography of the artist by Nelly Maillard. Also included are statements by American artists on Léger, those by Ellsworth


Illustration: Roy Lichtenstein Stepping Out, 1978 Beim Herausgehen Oil and Magna on canvas, 218.4 x 177.8 cm The Metropolitan Museum of Art, New York © 2008, ProLitteris, Zürich


To see more illustrations, click on VERSION FRANCAISE at the top of this page

FONDATION BEYELER
Baselstrasse 101, 4125 RIEHEN/BÂLE - SUISSE

INFORMATION:
Tel. +41 (0)61 645 97 00 Fax +41 (0)61 645 97 19 Site : www.beyeler.com E-mail : fondation@beyeler.com

OPENING HOURS:
Everyday from 10 am to 6 pm, Wednesday until 8 pm.

ADMISSION FEES:
Full price: 23 CHF. Students less than 30: 12 CHF. Children from 11 to 19: 6 CHF. Free for children until 10. Concessions every Monday and on Wednesday from 3 pm to 6 pm (except during the holidays).

CURATORSHIP:
Philippe Büttner, Fondation Beyeler

PRESS CONTACT:
Catherine Schott Tél. + 41 (0)61 645 97 21, Fax + 41 (0)61 645 97 39 E-mail : presse@beyeler.com