IT'S NOT ONLY ROCK 'N' ROLL, BABY!
FROM JUNE 20 TO SEPTEMBER 14 2008

Being a rock star and a visual artist: from Patti Smith to Pete Doherty, here are those who did it!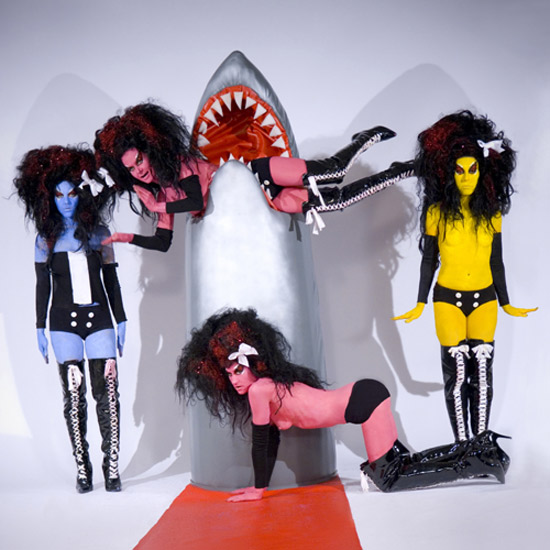 Kembra Pfahler The Volutuous Horror of Karen Black, 2007 © Kristy Leibowitz

The summer exhibition of the Center for Fine Arts shows rock and art from a new perspective. It gathers for the first time visual artwork by internationally renowned rockartists, such as Patti Smith, Yoko Ono, Brian Eno, The Kills, Miss Kittin and Pete Doherty.




They painted before they played

It tells the story of rock musicians who started out as visual artists. This collective exhibition features plastic works by some twenty icons from the international rock scene, gathering musicians from the 1970's to today. There are some illustrious names such as Yoko Ono, Patti Smith, and Brian Eno, but also contemporary musicians including Chicks on Speed, Antony (Antony and the Johnsons), The Kills, Pete Doherty and Miss Kittin. The purpose of the exhibition is to show the work of musicians who were mainly visual artists before becoming well known as rock musicians.


Music for the ears

In other words, it presents a central aspect of their artistic practices, although practically unknown compared to their music successes. The selected musicians show us that both forms of expression, rock and art, are inextricably bound together. It's not only Rock 'n' Roll, baby! is an exceptional collaboration project between the Brussels Centre for Fine Arts and the Rock Werchter Festival. The festival is one of the biggest in Europe. This summer they will be presenting a series of events and performances by the artists from this exhibition. The first name has already been revealed: on 16th July, Lou Reed will be giving a concert at the Henry Le Boeuf hall.

Illustration: Pete Doherty Blood Portrait pigment print on paper 42 x 59,4 cm, 2007 Edition of 35 + 5 AP's Courtesy Bankrobber Gallery, London





Let the curator sing

The exhibition was conceived and put together by "the most rock 'n' roll" of all the curators, Jérôme Sans, the founder and former director of the Palais de Tokyo in Paris, who has recently been appointed director of the Ullens Centre for Contemporary Art in Beijing. His interest in artists who explore different cultural disciplines without complexes, has motivated him for the past 15 years to present the less known aspects of some of the most famous creators. Music has always been part of his world and of his work as a curator. Along with the singer, Audrey Mascina, he forms the electro rock duo Liquid Architecture, currently working on their second album.

Illustration: Brian Eno 55 Million Crystals Permanent Installation Swarovski Kristallwelten, opened December 2000


PUBLICATIONS:

The catalogue looks both like a rock magazine and an art book, featuring exclusive interviews with the artists, photographs of their works, and a preface by Michael Bracewell. He is an art critic and author of art, fashion and music books, much acclaimed in England.
English language, hardcover, BOM publishers (design by BaseBRU), at Bozarshop: € 29,95
Elsewhere: € 34,95


To see more illustrations, click on VERSION FRANCAISE at the top of this page

CENTRE FOR FINE ARTS
Rue Ravenstein 23 - 1000 BRUSSELS

INFORMATION:
Tél. +32 (0)2 507 82 00 Website : www.bozar.be

OPENING HOURS:
Tuesday to Sunday from 10 am to 6 pm. Friday from 10 am to 10 pm

ENTRANCE FEES:
€ 7 : normal fare. € 1 for visitors under 26. € 12 : Combi- ticket with "Opening maps"
Everybody who wears a Rock Werchter 2008 wristband, is allowed to visit the exhibition for free during the week following Rock Werchter (from Tuesday July 8 up to Sunday July 13).

PRESS CONTACTS:
Leen Daems Tel. +32 (0)2 507 83 89 Fax +32 (0)2 507 85 15 E-mail:leen.daems@bozar.be