GEORGES KOSKAS
FROM 21 NOVEMBER TO 22 FEBRUARY 2009

An original creative itinerary, under the banner of freedom, that disconcerted the critics.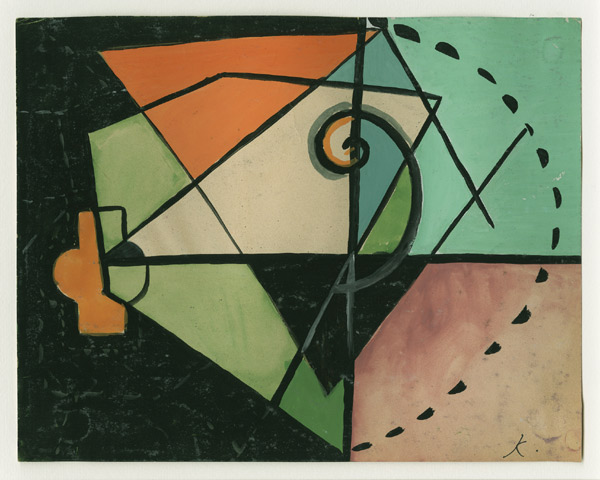 KOSKAS Untitled. Gouache on paper, 21x26cm Private collection Photo : Catherine Lancien, Carole Loisel


Georges Koskas was born at La Marsa in Tunisia in 1926 and settled in Paris as of 1946. His only rule as an artist was freedom, changing style and technique with a virtuosity that disconcerted most observers. Following his exhibitions in Grenoble and Mâcon, the retrospective at the museum of Beaux-Arts of Rouen offers us an opportunity to follow an exceptionally independent itinerary, which he pursued at the risk of being misunderstood. He cultivates this precious, purely poetic atmosphere, in which the imagination can lift into the light air the deepest part of a human being.


Working with Lhote and Léger

Koskas was one of the most original representatives of geometric abstraction in France in the forties and fifties. He then appeared as a radical pioneer, while following an extremely free and poetic inspiration that gave his paintings an aerial delicacy we find nowhere else. Koskas worked in the workshop of André Lhote in 1946 and then with Fernand Léger in 1947, always keeping a precise sense of composition. In the fifties he turned to paintings with dots that quickly made him famous and they remain to date one of the purest expressions of the Parisian avant-garde of that time. Yet his repertoire shifted and turned towards informal art as of 1955 and at the end of the fifties, contrary to all expectations, Koskas clearly turned back to figurative art.


The call of cinema

Always guided by an imperative need for freedom and demanding the pre-eminence of sensitivity and of inspiration, Georges Koskas sees no contradiction between his abstract works and his later paintings, quivering with light, in which the peopled seascapes and the elegant blooming figures, similar to flowers, evoke souvenirs of Matisse or of Pascin, with no other dogma than the poet's pure freedom. Aside from the vast explorations of his paintings, he illustrated literary works and designed various movie decors, among them Goha le simple de Jacques Baratier, a project he was very involved in, in 1957, and La Poupée by the same director adapted from Audiberti in 1962. The contact with movies seems to have played a decisive role in his return to figurative painting. Later on, at the end of the 1970s, he created photo-paintings with Eva Rodgold and even published a photo love-story in 1981 entitled 4,5,8,9




The intervention of a passionate collector

In the meantime his painting followed unforeseeable convolutions, always building a sensual and happy universe, composed in luminous colors placed in vibrant opposition, in a style that was increasingly difficult to classify at a time in which contrasted and well spotted currents dominated: committed painting, post-minimalism, neo-expressionism or conceptual art... Thanks to the intervention of a collector, Jean Cherqui, who a few years ago bought the collection of Koskas' workshop, the exhibition shows us works from his youth as well as creations from after 1960. Laurent Salomé, the director of the museum, explains that many of these creations were only seen twenty years ago, in an exhibition at the Raph gallery. Others had never been shown before.


PUBLICATION:

Georges Koskas, catalogue of the exhibition, Somogy, publishing house 204 pages, 200 color illustrations, 35 €. The volume includes essays by Laurent Salomé, Domitille d'Orgeval and Lucile Encrevé, poems by Georges Koskas, an illustrated chronology and a bibliography.

Illustration : KOSKAS Untitled. Watercolor, gouache and ink on cardboard, 46 x 61 cm. Private collection Photo : Catherine Lancien, Carole Loisel


To see more illustrations, click on VERSION FRANCAISE at the top of this page

MUSÉE DES BEAUX-ARTS DE ROUEN
Esplanade Marcel Duchamp - 76000 ROUEN

INFORMATION:
Tel. +33 (0)2 35 71 28 40 Fax +33 (0)2 35 15 43 23 Site : www.rouen-musees.com

OPENING HOURS:
From 10 AM to 6 PM every day. Closed on Tuesdays and holidays.

ADMISSION PRICE:
Full rate: 5 €. Reduced rate: 3 €. Free admission: under 18 and the unemployed.

CURATOR:
Laurent Salomé

PRESS CONTACT:
Virgil Langlade, in charge of communication E-mail vlanglade@rouen.fr
Marine Lutz, Communication Assistant E-mail : mlutz@rouen.fr Tel. +33 (0)2 35 71 28 40 Fax +33 (0)2 35 15 43 23