RALPH-SAMUEL GROSSMANN
THE VEILED WORLD

FROM 27 MARCH TO 28 JUNE 2009

Large photographic landscapes question us: how can we reconcile rationality and emotion when looking at Nature?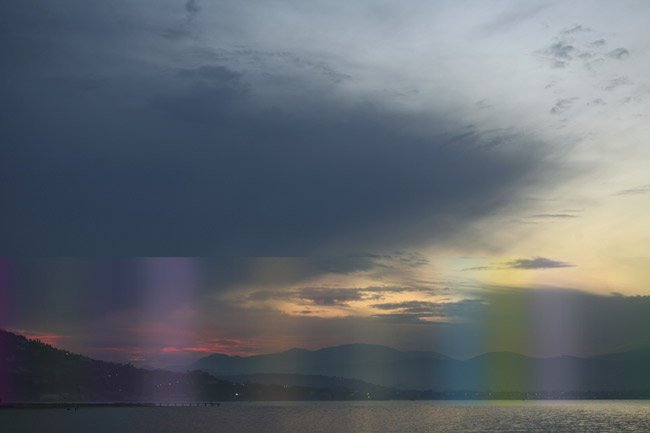 Grimaud, (Cirrostratus)

In pursuing its research on the contemporary forms of creation and in particular around the theme of the landscape, the museum of Beaux-Arts of Rouen has invited artist Ralph Samuel Grossmann. He works both on the image and the volume, and translates into his works in a classic manner, a vision and a questioning on the state of our contemporary relation with nature.


Question the metamorphosis of our world

For the project in Rouen, Grossmann integrates once again the representation of nature and the imagination of science. The Gallery, transformed into a big panorama, welcomes large images of cloudy skies, were colored luminous codes float. These images converse in space with sculpture-assemblages formed by natural fragments and of scientific modeling. Thus the ensemble questions, soberly and with poetry, the metamorphosis of today's world and how the announced global warming alters our perception of nature. «Science observes the world, as the artist explains, informs us and thus adds a new dimension to our direct perception of reality, located between abstract information, poetry and illusion. The series Le Monde voilé offers works (photographic landscapes and conceptual sculptures) that translate the contemporary feeling of nature. »


The horizon of our concern

The exhibition is made of large formats (1 m x 1.40 m) and sculptures in wood, stone and natural pigments. As Ralph-Samuel Grossmann explains, these sculptures derive «from the model developed by seismologists, to sign each earthquake, in a form that is simple to read. In face of the simplicity of this mathematical object, the often terrifying dimension of the earthquake itself disappears and becomes a colorful and fun signal, a color code. The large photographic landscapes open to the eye. A colored bar code goes from one to the other. They seem to associate meteorological observation in real time and the acknowledgement of an invisible reality. Beyond the subliminal magic of a cloudy sky, they refer to the new horizon our contemporary disquiet.»




Know and feel…

Born in 1970 in Strasburg, Grossmann studied in France and in the United-States, where he got a Masters in Fine Arts in photography at Tyler University in Philadelphia. He lives and works in Berlin. His work is accompanied by an elaborate theoretic reflection. «Our vision, based on scientific data, gives more results, but also continues to rely on our direct ocular perception. How then can we see the movement of a cloud, its continuous and poetic transformation? How can we see, and be moved by the purple ray created by the rain in the evening against the orangey sun? What breaths, what light odors coming from the earth are still available to our attention? (…) Are we going to succeed to feel while knowing? Will we know, with our sensations, our imagination and our rational thinking how to look, appreciate and above all, preserve this nature from which we are born? »

Illustration: Weststrand (altocirrus)


To see more illustrations, click on VERSION FRANCAISE at the top of this page

MUSÉE DES BEAUX-ARTS DE ROUEN La Galerie
Esplanade Marcel Duchamp – 76000 ROUEN

INFORMATION:
Tel: 02 35 71 28 40 Fax : 02 35 15 43 23 Site: www.rouen-musees.com

OPENING HOURS:
10 am - 6 pm - closed on Tuesday

ADMISSION PRICE:
Free admission

PRESS CONTACT:
Virgil Langlade in charge of communication, Marine Lutz communication assistant
Tél : +33 (0)2 35 71 28 40 / +33 (0)2 35 15 43 23 E-mail : vlanglade@rouen.fr mlutz@rouen.fr