OUR SUMMER EXHIBITIONS
SOUTHERN FRANCE
15 EXHIBITIONS NOT TO BE MISSED

From Jongkind to Miró, from gothic art in the Champagne region to design by Sottsass, the programme is quite enticing. And decorative arts are not ignored, as we also have African materials, Indian cottons, as well as furniture and jewellery by Majorelle.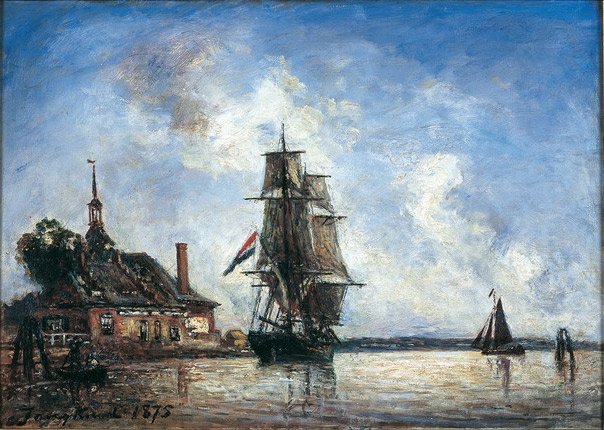 Johan-Barthold Jongkind, Le Hoofdpoort à Rotterdam, oil on canvas, 1875, 33,5 x 47,5 cm. Signed and dated at bottom left: Jongkind 1875 Reims, Musée des Beaux-Arts (exhibition at Musée Hector-Berlioz, Grenoble)

AVIGNON-SIENA

AVIGNON – Customs change with the times, and this does not exclude the popes. When the French sovereign sent an emissary to see the Pope in 1303, it was to slap him. The attempt at Anagni, ordered by Philippe le Bel, was certainly not the only cause but it did contribute to the election of a French Pope and then to the settling of the Popes in Avignon for three quarters of the century. To celebrate the 700th anniversary of their arrival in 1309, the museum of the Petit Palais demonstrates how local culture was enriched at the contact of the Italian masters. In a town that went very quickly from 6 000 to 40 000 residents, the architects built sumptuous residences for the cardinals which the painters decorated. The influence of Sienna is dominating as can be seen in the comparison of works, carried out with the loans from the Pinacoteca of Sienna, and in particular those of Matteo Giovannetti or the great Simone Martini. As a matter of fact the latter died in Avignon in 1349, after working on the frescoes of the cathedral of Notre-Dame-des-Doms.