Art Of The Day Weekly
#225 - from 8 September 2011 to 14 September 2011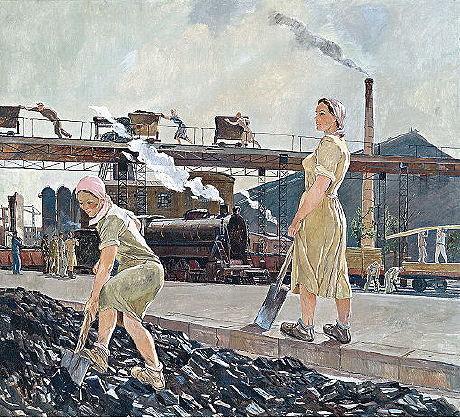 Alexander Deineka,
The Don Basin
, 1947, Tretiakov Gallery, Moscow (exhibition at the Fundación March, Madrid).
IN THE AIR
The 50 «must-see» exhibitions for this autumn
Each new season brings its share of major exhibitions. In spite of the crisis, the autumn 2011 crop will not be an exception to the rule in Europe, with such superstars as Leonardo da Vinci, Giacometti and Munch. They are going to be very tough competition for major figures or historical myths such as Alexander the Great, Pompey or Alice in Wonderland. Any selection would unmistakably be incomplete and this list of events will be developed and commented throughout the months to come. In the meantime, enjoy your visit(s)!
OLD MASTERS
Fra Angelico,
The Coronation of the Virgin
© 2010. Photo Scala, Florence. Courtesy of the Ministero Beni e Attività Culturali (exhibition at Musée Jacquemart-André, Paris).
From Fra Angelico to Leonardo da Vinci
The exhibit most awaited for is undoubtedly the one at the National Gallery in London, dedicated to the Florentine genius, Leonardo da Vinci (9 November), surprisingly in phase with current events since a work has just once again been attributed to him, something rare enough to merit being pointed out. In Berlin, the Bode-Museum has been the first to show its cards with Renaissance faces, masterpieces of Italian portraits (since 25 August) which include in particular a work by Leonardo, the famous Lady with an Ermine, on loan from Krakow. In Paris, delicate Fra Angelico will bring the Florentine Renaissance back to life –excuse the pun – as of 23 September at the musée Jacquemart-André, while the Golden Age of the Dutch XVIIth century will be represented by the 57 paintings from the Collection Kremer (27 October, Pinacothèque). In Madrid, Architectures peintes - build a bridge between the two disciplines, and show how painters have represented architecture, from the XIVth to the XVIIIth centuries (18 October, musée Thyssen-Bornemisza and Caja Madrid). Louis-Léopold Boilly arrived a little later but is still much too under-estimated in spite of being an excellent memorialist of the end of the Ancient Regime (4 November, Palais des Beaux-Arts, Lille). This period is also vividly although differently described in Casanova, la passion de la liberté (15 November, Bibliothèque nationale de France), which will present the manuscripts of the famous Mémoires, recently acquired by the Bibliothèque nationale.
XIXth-XXth CENTURIES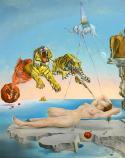 Salvador Dalí,
Dream Caused by the Flight of a Bee around a Pomegranate a Second before Waking up
, 1944, Oil on wood 51 x 41 cm, Museo Thyssen-Bornemisza, Madrid © Salvador Dalí, Gala-Salvador Dalí Foundation / 2011, ProLitteris, Zurich (exhibition at Fondation Beyeler, Basel).
Munch, Dali or Cézanne?
Many of us expect a delicious taste of decadence – maybe even an indirect reference to our troubled times with Beauté, morale et volupté dans l'Angleterre d'Oscar Wilde (13 September, musée d'Orsay, Paris) just a few days before slipping into the oppressive world of Edvard Munch (21 September, Centre Pompidou, Paris), into the visionary architectures of John Martin (21 September, Tate Britain) or into the universe of Alice in Wonderland (4 November, Tate Liverpool). The entrechats of Degas and the Ballet will give a poetic touch to this new season (17 September, Royal Academy of Arts, London) as well as the atmosphere of the Années folles à Paris (11 September, Palazzo dei Diamanti, Ferrara) The avant-gardes of the turn of the century will enjoy an avalanche of retrospectives. Symbolism in Italy is dissected at the Palazzo Zabarella in Padova (1st October), which can be completed with Klimt-Hoffman (25 October, Belvedere, Vienna), the rapprochement between an iconic painter and a great architect, or by the efflorescence of Jacques Gruber (16 September, galeries Poirel, Nancy). Expressionism will be closely studied at Villa Manon, near Venice with the exhibit Espressionismo (24 September) as well as at the Pinacothèque de Paris with Expressionnismus & Expressionismi (13 October). Dali, Magritte, Miro, Surrealism in Paris should be a real bloc-buster at the Fondation Beyeler (2 October, Basel). It will be competing with L'aventure des Stein, that presents the way the famous siblings got involved with modern art (2 October, Grand Palais, Paris). We can add to the list of individual retrospectives unveiled a little earlier, Cézanne et Paris (12 October, musée du Luxembourg, Paris), Lanskoy (24 September, LaM, Villeneuve d'Ascq) and another representative of Russian art, the symbol of Soviet realism, Alexander Deineka (7 October, Fondation March, Madrid).
CONTEMPORARY ART

Alighiero e Boetti,
Aere
, 1989, watercolour, 3 elements, 150 x 100 cm each, Carmignac Gestion Foundation © Alighiero Boetti by SIAE/VEGAP, 2011 (exhibition at Museo Reina Sofía, Madrid)
Between Baselitz and Tacita Dean
In London, the Victoria & Albert Museum pursues its series of exhibitions on the major movements of the XXth century. This year Postmodernism, Style and Subversion will be dissected (24 September). The retrospectives dedicated to the major figures of current art offer a very wide array, from the tender years of Barry Flanagan (27 September, Tate Britain, London) to the sculpture of Georg Baselitz (30 September, Musée d'art moderne de la Ville de Paris). London stands at the top of the podium with Gerhard Richter (6 October, Tate Modern), Grayson Perry (6 October, British Museum) and Tacita Dean, the artist chosen for the famous Unilever Series of the Tate Modern (11 October). Among the celebrities who have left us recently, the Reina Sofía museum in Madrid looks into Alighiero e Boetti (4 October) while the Centre Pompidou in Paris offers an enthusiastic welcome to the lady with the polka dots, Yayoi Kusama (10 October, Paris) before studying the role of dance in contemporary art (23 November, Danser sa vie). Another grand lady who left us last year is going to be honored at the fondation Beyeler in Basel: Louise Bourgeois (3 September).
PHOTOGRAPHY

Maurice Denis,
Anne-Marie, Bernadette and Noëlle under an Arcade, Bologna
, 1907. Musée d'Orsay, Paris, gift of Mme Claire Denis through the Société des Amis du Musée d'Orsay, 2006, c/o Pictoright Amsterdam, 2011 (exhibition at the Van Gogh Museum, Amsterdam).
Lewis Hine, Diane Arbus or Photoquai
November is an important period for this sector with Paris Photo (10-13 November), focused this year on African photography. But we needn't wait until then, we will be able to rediscover the images of a pioneer of photojournalism, Lewis Hine (7 September, Fondation Cartier-Bresson, Paris) or enjoy the plethoric offer of the festival Photoquai , spread out between the museum of quai Branly and various other sites (13 September, Paris). La Maison européenne de la photographie will open its season with Martine Franck (4 October, Paris). At the Jeu de paume, following the exhibit of Claude Cahun, another woman will be on the billboard: Diane Arbus (18 October, Paris). In Amsterdam, the Van Gogh Museum scrutinizes the links between painters and photography in Snapshot (14 October).
CIVILIZATIONS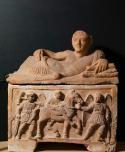 Cinerary urn with the representation of a funeral procession, alabaster, second century BC. BC, Museo Etrusco Guarnacci, Volterra, Photo Arrigo Coppitz (exhibition at the Pinacothèque, Paris).
Etruscan mysteries, Japanese samurai…
What role do toys play in human societies? That is the question put forward by the Grand Palais in Paris with its exhibit Des jouets et des hommes (14 September) before focusing on the subject once more, two months later, but this time the question regards video games, with Game Story (10 November). Strasbourg expresses another type of game with L'Europe des esprits (8 October, Musée d'art moderne et contemporain), which traces the links between art, secret societies and mediums. Paris will be a true launching pad to take off from, through time and space, towards far away realities. The program will begin with the rapprochement between Giacometti et les Etrusques (16 September, Pinacothèque), to be closely followed by Pompei (21 September at the musée Maillol) before crossing continents and heading for the Cité interdite (29 September, Louvre) and Maori (4 October, Quai Branly). The same museum will continue to explore the other side of the world with Samourai (8 November). The saga of Alexander the Great is impatiently awaited for at the Louvre (13 October) before Gaulois at the Cité des Sciences (17 October) shakes all of our certainties on our ancestors.