Art Of The Day Weekly
#251 - from 22 March 2012 to 28 March 2012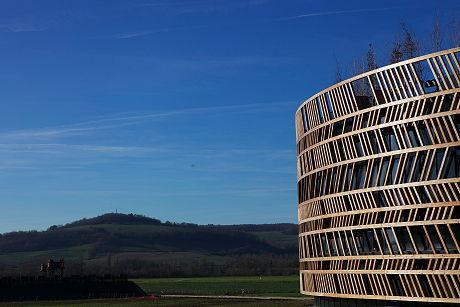 MuséoParc Alésia, architect Bernard Tschumi, photo Claire Jachymiak.
IN THE AIR
MuséoParc Alésia, Vercingétorix strikes back
Historical figures have become very much in fashion. In Paris and Brussels, the musée des Lettres et Manuscrits (Literature and manuscripts) has made a reputation for itself thanks to its collections of autographs by De Gaulle or Einstein's equations. Former minister Yves Jégo has just announced the creation of an historical park dedicated to Napoleon Ist, just a few days after the opening of the MuséoParc Alésia. This new cultural institution is set up in the heart of Burgundy, in the plain where Gauls and Romans acted out the last scene form the war of the Gauls, in 52 B.C. Its aim is to help us understand the memorable battle, using certain objects from the archaeological diggings we owe to Napoleon III's passion for Cesar. There are also maps and models, reconstitutions of the warriors' clothing as well as of the colossal fortifications that protected Cesar in his siege against the enemy's village. Movies and screens add to the data available. This is a totally new way of presenting history, and may force us to double-check any claims as to the location made by the favorite Gaul of all, Astérix.
• The Muséoparc will open at Alise-Sainte-Reine on 26 March 2012.
EXHIBITIONS
Italian outsiders
PARIS – Curator Gustavo Giacosa, who is also a member of Pippo Delbono's theater troop, calls them "bandits". These marginal artists are the "inspired artists off the side of the road", either psychiatric patients or original individuals on the loose who work on wrapping paper, with cobble stones or discarded objects. The Halle Saint-Pierre draws up a detailed portrait of this "other" Italian art that has received recognition since psychiatric hospitals opened up in 1978 through law N° 180 that Franco Basaglia championed. This retrospective includes Carlo Zinelli, the workshop of Blu Cammello in Livorno, portraits by Ghizzardi and the architectural work of Vincent Brunetti among many more works. It follows in the footsteps of its Japanese and English older sisters and shows the vitality of this rebel creation that is slowly but surely recuperated by the market mechanisms.
• Banditi dell'arte at la Halle Saint-Pierre, from 23 March 2012 to 6 January 2013.
Art of the day also recommends...
• BERNE - Hermann Hesse was a famous writer. But he was also a painter as can be seen in the first retrospective of this hidden talent at the Kunstmuseum. From 28 March to 12 August 2012.
• PARIS – The Jacquemart-André museum presents in le Crépuscule des Pharaons the Egypt of the Pharaohs during their last tumultuous and often neglected century. From 23 March to 23 July 2012.
• PARIS – Drawer Art Spiegelman, who became famous thanks to Maus, is the object of a retrospective at the Centre Pompidou. From 21 March to 21 May 2012.
AUCTIONS
Lot n°90, Vivienne Westwood, head ornement including a head band with a black crest decorated with cigarettes. Estimate: €80-120.
In the time of hats
PARIS – Sun bonnets, pillbox hats, caleches, turbans, straw hats, tambourin-shaped hats, felt hats, caps, smoking caps, veils, bobs, berets… We no longer wear, we hardly know how to make the difference between one and the others and we have lost the rich vocabulary that accompanied the knowledge of hats. This auction will allow us to plunge back into this universe of feathers and, crêpe paper and black tulle, pearls, taffetas and sparkles, illustrated by the greatest designers, from Jean Patou to Christian Dior, from Schiaparelli to Nina Ricci. While looking at these we discover specialists Rose Valois or Motsch before unveiling some solitary contemporary creator, usually Anglo-Saxon such as Vivienne Westwood, who presents a punk headset adorned with cigarettes, or Philip Treacy, the queen of England's favorite, a lot more elegant with his sunbonnet with a jersey bow. Unless there is some craze, everything could be sold between €50 and €500. The highest estimate was given for a Persian headdress from 1780 in the shape of a sugar loaf, at €600.
• Chapeaux on 23 March 2012 at Drouot-Richelieu (Chayette & Cheval).
ARTIST OF THE WEEK

Sigurdur Gudmundsson,
Triangle
, 1980, photography, 110 x 130 cm. Courtesy Galerie Martine et Thibault de La Châtre, Paris.
Gudmundsson's 1001 lives
If you can pronounce his name, you have overcome the first hurdle. Then you have his exact origin: though Gudmundsson is from Iceland he is mostly a nomad, and has lived in Lisbon, New York, Berlin and Amsterdam, and for the last fifteen years he has been based in Xiamen, China. Last but not least, his work: he changes just like Morpheus and is a photographer, a performer (a performance is scheduled on the day the exhibit opens, March 24) a sculptor and a writer. He explained this in an interview with the Reykjavik Grapevine in September 2010: "It is difficult for me to speak of a guiding thought in my work since I am constantly going from one thing to another". As an example we note that in photography, which is the main theme of the Paris exhibition, he had two very different periods, though in all he often explores the private sphere and the relations with others, his series "Situations" in the 1970s and "Mutes" three decades later. He also lives very different experiences, as during the nine months he spent in Vietnam during which he only communicated by signs.
• Sigurdur Gudmundsson is presented at the galerie Martine et Thibault de La Châtre from 24 March to 19 May 2012.
OPENINGS OF THE WEEK
BOOKS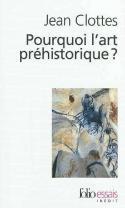 As secret as a cave
The most nagging pain we can have about our distant ancestors' art is undoubtedly why? Why did they chose caves and paint figures for 20 000 years, a lapse of time our zapping-crazy contemporaries could never fathom? Why did they print so many hands? Why did they represent animals such as the mischievous owl, capable of turning its head at 180°? Jean Clottes is aware of the limits set by the mystery of the origins and has searched for revealing clues in the aboriginal cultures that survived until last century, and he dares drop the "how" and "what" to focus on the stubborn "why?" As if in a police investigation, he chases the truth and interprets shattered stalactites as well as the very rare bird from the Puits de Lascaux, and thus reaches his own conclusion: these Palaeolithic motifs are expressions of a shamanist type religion, where painting was entrusted to insiders.
• Pourquoi l'art préhistorique ?, by Jean Clottes, Folio Essais, Gallimard, 2011, 336 p., €8.90.
Buy that book from Amazon
IN BRIEF
FERRARA – The XIXth edition of the Restauro fair, dedicated to the latest in the restoration of artistic patrimony, will be held from 28 to 31 March 2012.
PARIS – The Salon du Dessin (Drawing fair) will bring together 39 international galleries at the Palais de la Bourse, from 28 March to 2 April 2012. It will be accompanied by many different events grouped together in a Semaine du dessin (Drawing week).
PARIS – The Pavillon des arts et du design (Arts and design pavilion) brings together nearly 80 galleries (from pre-Colombian art to contemporary design) in the Tuileries gardens from 28 March to 2 April 2012.
PARIS – The Journées marteau (Auction days), organized from 24 to 31 March 2012 in the main auction houses in France (among them Drouot) are aimed at creating awareness of auctions among the public at large.