Art Of The Day Weekly
#373 - from 29 January 2015 to 4 February 2015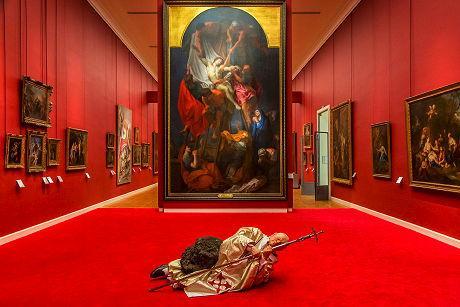 Maurizio Cattelan,
La Nona Ora
, 1999. Polyester resin, human hair, fabric, clothing, accessories, stone and carpet. Dimensions variable. View of the exhibition "Libre !" in 2014 at Musée des Beaux-Arts, Rennes (France). Photo, Zeno Zotti. Courtesy, Maurizio Cattelan's Archive.
IN THE AIR
Extension of the domain of blasphemy
In France blasphemy is not a crime punished by the law, but the word today is a burning coal which the ultras see everywhere. There was a time, in the Western world at least, in which works were accused, not the human being who created it. We can all remember the Piss Christ by Andrés Serrano, which was often vandalized, or the demonstrations in 2011 against Romeo Castellucci's play On the concept of the face of the son of God . Recent events – among them those at Charlie Hebdo of course – show that we have reached greater rigidity in each camp's position, and intolerance has once again become a fashionable value. The destruction of the Bamyian Buddhas– guilty of representing the Divinity – remains the strongest example of religious fanaticism and artistic censureship. But iconoclasm – which reminds us of the time when Byzantine frescoes had their eyes pierced– can seethe in in a more insidious manner. The artist Orlan lambasted the organizers of "Femina" at Clichy for removing a work of art from the exhibition. Zoulikha Bouabdellah had placed a pair of high heels, a symbol of feminine temptation, on a prayer rug. As they claimed, this was surely blasphemous! As The Observer revealed, the Victoria & Albert Museum in London discreetly removed from its on-line collection a representation of the prophet. At the same time, an American official had the photograph of a pregnant woman taken out of a gallery, as the subject was considered "pornographic"… Sophia Aram, the comedian on radio France Inter, who recently presented her satirical chronicle wearing a burqa, said it clearly: while believers have a right to their freedom of praying, Atheists have a right to their freedom of thinking. Hopefully the chevalier de La Barre's death (sentenced for blasphemy) will serve a purpose! We should take out a good slogan from May 68: it is forbidden to forbid.
EXHIBITIONS
Vlaminck, the return of a pariah?
RUEIL-MALMAISON – He was one of the greatest Fauvists, together with Matisse and Dufy. But he is not liked. There was one main reason for this: the famous trip to Germany organized in the fall of 1941 by the Nazi leaders. Vlaminck, then 65 years old, was among the artists with Dunoyer de Segonzac, Derain and Despiau. Matisse judged them cruelly in a letter to his son: "It was pitiful…A real caravan". Vlaminck was never really forgiven, and his enmity for the untouchable Picasso who he felt was responsible for dragging French painting down a dead-end street, pushed him down even deeper into oblivion. There have been very few retrospectives of his work, which we can count on the fingers of one hand: one in 1956 at the galerie Charpentier, in 1987 at the musée des Beaux-Arts de Chartres, in 2008 at the musée du Luxembourg. The site chosen for this one may seem strange but is historically justified. On the eve of World War I, young Vlaminck, a real lover of bicycles, lived for some ten years at Rueil-Malmaison with his first wife. The Wildenstein Institute published the catalogue raisonné, and private lenders also helped so that the exhibition can proudly boast of certain works that have never been shown before to the public.
• Vlaminck at Atelier Grognard, from 30 January to 25 May 2015.

Lorenzo Lotto,
Christ and the Woman Taken in Adultery
, ca 1540, oil on canvas, 105 x 132 cm. Museo-Antico Tesoro della Santa Casa, Loreto.
Treasures from Loreto
ROME – Loreto holds the Virgin's Home, which following a miraculous flight from the Holy Land and a stopover in Dalmatia landed on the Adriatic coast. Together with Lourdes and Fatima, this is one of the most visited sanctuaries of Christianity. A wealthy though unknown artistic patrimony was created through religious patronage. In order to rearrange the collections the Museum Treasure is temporarily closed which should help the site enlarge its public beyond the circles of devotees. The star of the event is of course Lorenzo Lotto, the enigmatic painter of the XVIth century, who spent his last years and created his last works at Loreto. Various paintings of Saints, among them Roch, Sebastian and Christopher, show the intensity of his own vocation. A Portrait of a young man is a great contrast with the rest. Maybe it's a self-portrait? Other pious paintings on the iconography of the Santa Casa, signed by Pomarancio or Guido Reni, and liturgical silverware, of which the famous Crucifix of Giambologna, complete the ensemble.
• Lorenzo Lotto e i tesori artistici di Loreto at Castel Sant'Angelo, from February to 3 May 2015.
AUCTIONS

Lot 11. Delahaye 135 M cabriolet Faget-Varnet - 1948. Estimate: €100,000 to 150,000.
Bodywork of the past
PARIS – They look like relics straight out of an American ghost town. They are rusty, dusty, with flat tires, the work of remarkable decorators to re-create a mining town suddenly rich at the time of Roaring Twenties. But, that's not it at all! The vehicles put up for sale for the Rétromobile fair are real cars! They look the way they do because they spent a long period in a garage in Western France, where a car lover had stored them in order to open a car museum someday. That day never came and when Mr. Baillon's cars were discovered last autumn they created an international bug. It is not very commun to run into a Talbot Lago T26 Grand Sport or a Ferrari California which belonged to Gérard Blain and then to Alain Delon. The prices cover a wide range, between the touching Citroën Type C 5 HP torpedo « Trèfle » from 1924, estimated at €800, up to the superstar, a Ferrari 250 GT SWB California Spider from 1961, which could go for more than €10 million. This event could convince those who are not yet convinced that automobile design can attain a level of high art.
• Vente Baillon at Artcurial on February 2015.
ARTIST OF THE WEEK
Guy Limone: long live statistics!
"3% of the occupants of Washington Plaza come to work on their bicycles": the data is shown in colorful neon letters in the hallway of the stately Art deco building, near the Etoile. "Statistics are the geometry of today", Guy Limone explained during the inauguration of his installation in the Parisian offices of the Société foncière lyonnaise. The artist remains loyal to his practice: reconcile, as the ancient Greeks recommended, order and color. In his art order is precisely this merciless statistic that accompanies us daily (unemployment rate, growth rate, non-sold items, occupancy rate, success at the exams, flight punctuality rate, urban population rate), which he puts into statistics, cuts out, classifies, hierarchises, interprets, in architectures, in suspensions, in reflections, in collages. In his sometimes monumental installations (recently at the Tri postal in Lille or at the FRAC Alsace), we also see an attempt to bring poetry to our materialistic world… A huge mission!
• Horizon chromatique, inaugurated on 27 January 2015, can be seen at Washington Plaza, 42, rue de Washington, 75008 Paris. Guided visit every Tuesday during February from 1:30 to 2:30 PM.
BOOKS

The world is a thread
One can easily imagine that this form of art is very ancient, with its roots plunged in some pre-Colombian tradition. Actually, the paintings made with thread by the Huichol Indians in Mexico – a community of nearly fifty thousand persons - are not even one hundred years old. They appeared in 1953 in an artisan fair at the bus station in Guadalajara! Certain major works, collected early on by Western museums, already used synthetic string, which proves they belong to the XXth century. The author has a long experience of Indians (he also lived with the Wayuu of the Guajira, between Colombia and Venezuela), decrypts the material procedure (spreading on a plywood board a layer of wax in which the strings are dipped) but above all the symbol of this very ritual art form. In it there are Gods, chamanes, animals (colibri, eagle or rattler) and local vegetables (peyotl and various solanacea, cousins of eggplants) to explain the great myths of the creation and the cosmos.
• Visions huichol, un art amérindien du Mexique by Michel Perrin, Somogy, 2014, 224 p., €35.
Buy that book from Amazon
OPENINGS OF THE WEEK
Zarko Baseski
29 January 2015 - PARIS - Galerie Hélène Nougaro
The disturbing sculptures of the Macedonian artist that represented his country at the Venice Biennale in 2011
IN BRIEF
ANGOULEME - The festival international de la bande dessinée (International festival of comic strips) will be held from 29 January to 1 February 2015.
BEAUVAIS - The musée de l'Oise, known as the Mudo, the home of important works by Corot and Ingres, reopened its doors on 25 January 2015 following two years of works.
GENEVA – ArtGenève modern and contemporary art fair will be held from 29 January to 1 February 2015.
PARIS – SimeSitem, a fair dedicated to museum equipment, is being held at Carrousel du Louvre from 3 to 5 February 2015.