Art Of The Day Weekly
#378 - from 5 March 2015 to 11 March 2015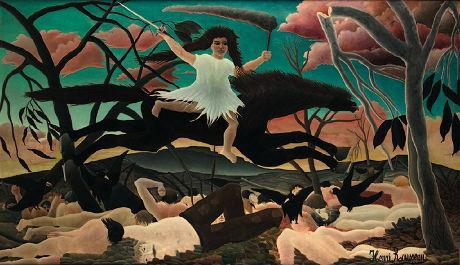 Henri Rousseau,
La Guerre
aka
La chevauchée de la Discorde
, 1894 ca, oil on canvas, 114 x 195 cm, Musée d'Orsay, Paris © RMN-Grand Palais (Musée d'Orsay)/Tony Querrec
IN THE AIR
Was Douanier Rousseau all that naif?
VENICE – His apostrophe to Picasso made history, "We are the two greatest painters of history, you in the Egyptian style, me in the modern style". And to think that many see Douanier Rousseau (1844-1910) as the prince of naïf artists... Apollinaire saw in him neither a "decorator" nor a painter of popular pictures but rather a "painter". How have some of the products of his imagination become so familiar to us? How did he create a stereotype jungle that perfectly convinced us, though he never went any further that the Parisian zoo - the Jardin des Plantes - if we put aside his so-called participation to Maximilian's Mexican expedition? How can he be so contemporary while being so unrealistic? This great exhibition at the Ducal Palace with loans from fifty major institutions confronts his works to those of other non-classifiable personalities from the art world, like Maestro della Fruttiera Lombarda, Carlo Cenna or Frida Kahlo. It is an interesting symbol to choose this strangely modern archaism to open a rather exciting year with Expo 2015 in Milano, or the Biennale.
• Henri Rousseau, il candore arcaico at the Ducal Palace, from 6 March to 5 July 2015.
EXHIBITIONS

Vittore Carpaccio, the Tryptych of Santa Fosca recomposed (Saint Peter Martyr, Saint Sebastian, Saint Roch).
Carpaccio, father and son
CONEGLIANO – Everyone knows Vittore Carpaccio (1460-1525), the father and world-known creator of theSaint George and the Dragon, of which he made various versions in Venice. His name has also been used for the past fifty years to refer to those thin raw slices of beef. But his son Benedetto is completely unknown. He limited his activity to reproduce his father's models, in particular the religious works. The time has come to bring them together and to check that this presupposition corresponds to reality. For this special event art historians present their latest discoveries, such as an altarpiece from the village of Sirtori, and reassemble polyptychs that were fragmented a long time ago like that of Santa Fosca and its different elements scattered far beyond its native Venetia.
• Carpaccio, Vittore e Benedetto da Venezia all'Istria at Palazzo Sarcinelli, from 7 March to 28 June 2015.
The British and the Spanish Civil War
NEWCASTLE – George Orwell, who was wounded then in the neck, wrote some of the most memorable pages about the Spanish Civil War, which was also the subject of writings by Stephen Spender and W.H. Auden. It is equally well known that as soon as it was painted Guernica went on an unforgettable tour of England in 1938. The most emblematic painting of the violence of the XXth century was shown at the Whitechapel gallery in London as well as in –unbelievable but true- a Ford garage in Manchester. The British have a strong link with the Spanish conflict shown through writings. But less is known about the visual aspect. Which artists nourished their works with these combats, these dead, this political symbol? The exhibition shows F.E. McWilliam, John Armstrong's houses in destroyed villages, with wallpaper stripped off, or Walter Nessler whose well-named Premonition sounds indeed like an afore-taste of the Blitz…
• Conscience and Conflict : British Artists and the Spanish Civil War at the Laing Gallery, from 7 March to 7 June 2015.
These exibits also open this week
The cosmopolitan dreams of Leonora Carrington
LIVERPOOL – She was a friend of Max Ernst and Dali, and her long life allowed Leonora Carrington (1917-2011) to rub elbows with the apostles of Surrealism as well as the Latin-American artists of the XXIe century (she died in Mexico), turning his fantastic painting into a remarkable patchwork.
• Leonora Carrington at the Tate Liverpool, from 6 March to 31 May 2015.
The heritage of Jeanne Lanvin
PARIS – A fashion icon, the founder of the oldest working haute couture house, Jeanne Lanvin (1867-1946) organized her creation around her own idol, her daughter. The soul of Art déco, the pioneer of image rights, she represents a period of XXth century heritage, with her particular style, the "bleu Lanvin" or her perfume Arpège, well placed in this extensive exhibit of her creation.
• Jeanne Lanvin at Palais Galliera, from 8 March to 23 August
When Matisse looked to the East
ROME – Matisse felt the fascination for the Orient very early on in his life. The colors of North Africa, the arabesques of Persia, and the exotic motifs come from places as far as Tahiti – where he traveled in 1930 - settled repeatedly in his works. This presentation of some one hundred paintings, lent from Russia, the United States or Jerusalem, explore these influences.
• Matisse. Arabesque at the Scuderie del Quirinale, from 5 March to 21 June 2015.
AUCTIONS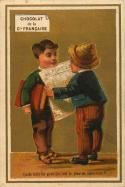 Lot 96, 815 chromos, estimate €400.
Chromo still has its charm
PARIS – "Chromo": the Grand Larousse dictionary of the XIXth century, published in 1869, does not mention the term. But as a reflection of the evolution of reproduction techniques, it was used as of 1872, when referring to a loud image (what would later be called "kitsch"), used to flatter the choice for vulgarity. What has long being looked down upon will often turn around and find new value, and today chromos are greatly sought after, and still quite accessible. They are witnesses of a popular form of aesthetics, and are also historical documents that remind us of the existence of quinquina Cusenier, of Arlatte & Cie indigenous chicory, the meat extract Delacre, or American mint alcohol. Next to major department stores and soap makers, the chocolate producers were the masters in this field broadcasting their image in all directions. We all remember Menier and Meunier, Poulain, but there were many more, from Guéron-Boutron to Devinck, from Masson to Sadla who acted out their own roles in colorful and often exotic compositions.
• Cartes postales anciennes et chromos à l'hôtel Drouot (Morand SVV) le 5 mars 2015.
BOOKS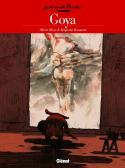 Goya's darkest moments
Comics trips are very much in fashion. With nearly 5000 publications every year in France, it can surely cover a wide range of subjects. The life of great artists or their models seems to have become a profitable vein. Picasso has been sketched by Birmant and Oubrerie, Pascin by Johan Sfar, andt Kiki de Montparnasse, Man Ray's muse, by Catel and Bocquet. Glénat enters the sector with great ambitions, and foresees a series of thirty albums to draw up another history of art. Results of course are not all the same but one of the first volumes, dedicated to Goya, lets the reader into the darkest corners in the creation of a sour-tempered old man, thanks to the allusive, non-finished trait of Benjamin Bozonnet. Goya was then 73 years old and isolated himself in a farm near Madrid to generate his diabolic Pinturas negras in front of which the peasants crossed themselves. These works were done on the walls in 1819, and could have disappeared since they were only removed in 1874 when the baron d'Erlanger bought Quinta del Sordo and had them mounted on canvases to sell them to the Universal Exhibition in Paris. He did not succeed and finally gave them to the Prado museum, thus putting an end to a strange episode in Spanish art.
• Goya, by Olivier Bleys (scenario) and Benjamin Bozonnet (drawing), Glénat, 2015, 56 p., €14.50.
Buy that book from Amazon
OPENINGS OF THE WEEK
KATIA KRIEF Reines d'un jour
5 March 2015 - PARIS - Galerie Guigon
Disturbing portraits of young girls looking at us - but are they really watching?
IN BRIEF
NEW YORK - The Armory Show, a modern and contemporary art fair, is being held from 5 to 8 March 2015.
PARIS - Serge Lasvignes, general secretary of the government since 2006, has been named on 4 March to head the Centre Pompidou where he will replace Alain Seban.
PARIS - La Coiffeuse, a painting of Picasso from 1911, which had been robbed from the Centre Pompidou in 2001, has been found by the American customs and will soon be given back to the Paris museum.
SHARJAH (UAE) - The 12th Sharjah Biennial of contemporary art is being held from 5 May to 5 June 2015.
FONTAINEBLEAU - Fifteen objets d'art were stolen from the Chinese Museum of the Château de Fontainebleau on 1 March 2015.