Art Of The Day Weekly
#393 - from 18 June 2015 to 24 June 2015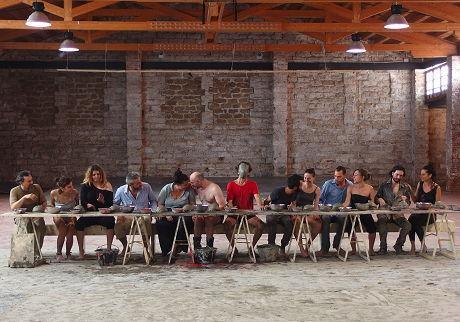 Performance by Olivier de Sagazan at Cantieri culturali Zisa, Palermo, Sicily, 16 June 2015 (Photo R. Pic)
IN THE AIR
Letter from Palermo
We all thought she was the Mediterranean Sleeping Beauty, looking over her immense heritage with a distracted eye: baroque churches, Teatro Massimo, liberty palaces saved from the "looting" of the 60s. Actually, at a time when France is reacting like a fortress under siege, Palermo, governed by its emblematic anti-Mafia mayor Leoluca Orlando, believes instead in opening borders and suggests revoking the residence permit in order to make mobility a universal right. Some of the most important alternative events and manifestations of the South of the continent take place in Sicily, which we all easily believed to be lagging behind. These include the Gay Pride and the trans-gender festival (Sicilia Queer). Immigrants take part to a council of cultures, which Town hall consults. The most disturbing artists are welcome, such as Regina José Galindo, Hermann Nitsch in the near future, in the colossal industrial warehouses of the former Ducrot plants, or composer Alvin Curran who will give a concert with fog horns with the ships in the port on 14 July. A photography museum is in the making, supported by Letizia Battaglia, and the city will be the venue for Manifesta 2018. Palermo has not solved all of its problems. But, at a moment of frustrations and nationalisms, she defends another idea of Europe: similar to the idea the Normans had one thousand years ago, when they did not hesitate, once they had conquered the country, to practice a "merger" and to build their castle in the style of the conquered land. The future inclusion of the Arab-Norman treasures - among them the Palatine Chapel – into Unesco's list of world heritage is like a symbol and a reminder of what Europe owes to hybridization.
EXHIBITIONS
Piero's enchanted world
FLORENCE - Vasari, the "deus ex machina" of the Italian Renaissance, had classified him among the originals. A student of Cosimo Rosselli, whose name he inherited, the young man was very promising and his master took him to work at the Sixtine chapel. But over the years Piero di Cosimo (1462-1522) became increasingly solitary. He would stare at the spit of the sick on a wall or at the clouds in the sky and his strange mind drew battle scenes from them. He was petrified by thunder and he would lock himself up in his home? He was thus found dead one day, at the foot of a staircase. His inventiveness – he who taught Andrea del Sarto – was kin to that of Bosch or Bruegel, and would concentrate on details. We can only regret that some of his craziest creations, like the death car the designed for a carnival, full of bones and horses ridden by cadavers, did not reach us.
• Piero di Cosimo at the Uffizzi gallery, from 23 June to 27 September 2015.

Pierre-Paul Prud'hon,
Study of nude female bust
, black lead and white chalk on bluish paper, non-dated, musée Baron Martin.
To draw like Prud'hon
LONDON (Dulwich) – He was one of the most talented drawers of the beginning of the XIXth century but his glory has waned. Pierre-Paul Prud'hon (1758-1823) was a favorite of Napoleon's and of the Imperial court, of which he often made the portraits. The exhibition focused on the 200th anniversary of Waterloo -18 June 1815 – presents 13 drawings by this virtuoso of black lead and white chalk. For those who would like to solve the mystery of this perfectly impeccable technique, there will be various copy sessions. The exhibition is also an opportunity to shine the spotlight on a little museum in the province, that of Baron Martin in Gray, which owns 26 of the artist's drawings.
• Prud'hon at the Dulwich Picture Gallery, from 23 June to 15 November 2015.
The Baron Martin museum at Gray (Franche-Comté)

Ernesto Ballesteros,
Untited
, from the series «Fuentes de luz tapadas», colour print with black marker, 2005-2015
The roads to Buenos Aires
PARIS – Like all cosmopolitan capitals worthy of that name, nearly half of its residents are born elsewhere. The city of tango, of polo and of the Boca Juniors, Buenos Aires is also a major artistic metropolis of the New Continent. In the context of the exchanges which have already been carried out with Winnipeg and Johannesburg, the maison rouge offers a real mapping of Argentine contemporary art. From sacred monsters like León Ferrari or Marta Minujin to the younger Leandro Erlich and Tomás Basualdo, used to international events, the exhibit brings together some sixty artists of all media and subtly submits a number of questions, common to other metropolis: the birth of new neighborhoods, self-management in face of unleashed liberalism, the role played by minorities, among others.
• My Buenos Aires at la maison rouge, from 20 June to 20 September 2015.
ARTIST OF THE WEEK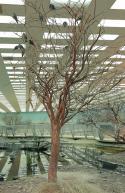 Ali Cherri,
Wildlife
, 2015. Photograph and light box, 200x125 cm. Courtesy of the artist and Imane Farès.
Ali Cherri, memories from the desert
Archeology, its approach and its techniques have inspired a great number of contemporary artists such as the Poirier spouses, Arman, Spoerri or Sophie Ristelhueber. Ali Cherri, born in 1976 is partially in this same movement. A native Lebanese, for years he has been following the diggings carried out in the Gulf nations (Sharjah and Abu Dhabi) and studying the way we try to build a history based on testimonies found in the desert. Is this scientific reality or an imaginary landscape? Though it was not meant to be, this research is very important at present since, as we know, others try today to systematically erase, with clubs or bombs, a past that seems "incorrect".
• The exhibition Déserts presents works by Ali Cherri as well as by Basma Alsharif, a "nomadic" Palestine artist, at the galerie Imane Farès (41, rue Mazarine, 75006 Paris), from 11 June to 31 July 2015.
OPENINGS OF THE WEEK
BOOKS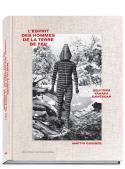 Tierra de fuego, a vanished world
He died nearly half a century ago and yet his work remains very present. This is simply because it is definitive. Martin Gusinde (1886-1969) was a German missionary, a teacher at the high-school of Santiago de Chile, who spent all of his vacations taking adventurous trips to Patagonia. He would not fish nor hunt, but rather immortalized, through photography, the Indians of the Tierra del Fuego. These ethnic groups, mistreated by the colonizers, hunted down, brutally converted and contaminated by devastating illnesses, have now disappeared. The most beautiful images we have of them are those taken by this austere member of the order of the Divine Word, who knew above all how to document the impressive body paintings –abstract motives of lines and points on bodies that are completely naked. We can well imagine what over rigorous superiors could have done with these unique images.
• L'esprit des hommes de la Terre de Feu, Selk'nam, Yamana, Kawesqar, by Martin Gusinde, éditions Xavier Barral, 2015, 300 p., €60.
Buy that book from Amazon
IN BRIEF
BASEL - The modern and contemporary art fair Art Basel is being held from 18 to 21 June 2015.
BASEL - The contemporary art fair Liste is being held from 16 to 21 June 2015.
HAMBURG - The Photo Triennale is being held from 18 to 28 June 2015.