Art Of The Day Weekly
#407 - from 19 November 2015 to 25 November 2015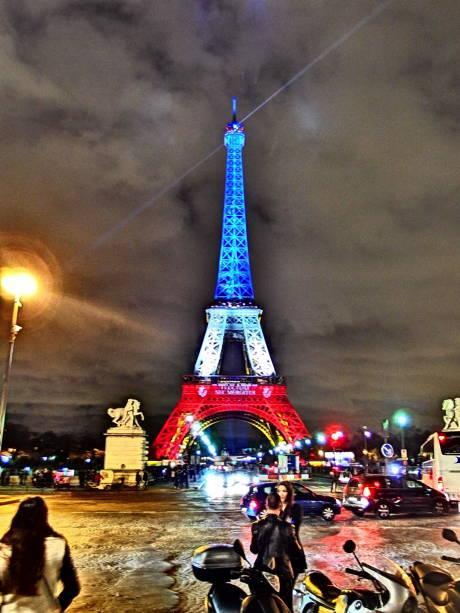 The Eiffel Tower, Wednesday 18 November. Photo R. Pic
IN THE AIR
Letter from Paris
Following the dramatic events occurred on November 13 it may seem futile to talk of art. Is it not a luxury when others are mourning their dead? Actually, culture is not a simple hobby. The victims would surely agree with this. Culture is the ultimate expression of our freedom to think and to create, it is man's most universal contribution. It is everything the fundamentalists would like to see disappear. As far as we know, there are no museums, no exhibitions, no movie festivals, no free publications in the world of the fundamentalists. They don't even have the right to sing the songs they -may?- like: the movie Timbuktu showed very clearly how narrow-minded, how brutal and overpowering their censure is. When French culture Minister Fleur Pellerin announced on Sunday evening that cultural institutions would open after two days of mourning, she reminded everyone that these venues are indispensable for us to discover, to get together and to exchange. These oases are regularly threatened … "Death to intelligence!" Millán Astray, the head of the pro-Franco Legion said at the end of a critical speech by Unamuno at the University of Salamanca on 12 October 1936. We must all be aware of the fact that the joy we can find in walking freely among works of art of people all over the world, in choosing a book, a movie or a concert is not a gift but rather a victory dearly paid for. We must defend this as one of the strongest symbols of our democracy.
EXHIBITIONS
Florence, another capital
FLORENCE – Who remembers that the capital of Tuscany was also the capital of Italy? It was a brief period, passing through Torino before reaching Rome: indeed, five short years (1865-1870) during which King Victor-Emmanuel II settled on the banks of the Arno, at Palazzo Pitti. To celebrate the 150th anniversary of this event, this exhibition focuses on recreating the environment of a monarch who was concerned in showing his attachment to the local artists. Furniture, jewellery, objets d'art are all brought together in the same apartments Victor-Emmanuel lived b-in. Paintings as well: and one is forced to realise that although he showed some interest in the innovating Macchiaioli school, he was most attached to troubadours and academic, pompous artists, interested in reproducing an ideal past, peopled with poets and damsels, in a décor of cypress trees, frescoes and fountains. A real postcard!
• Firenze capitale 1865-2015, i doni e le collezioni del re at the Galleria d'arte moderna, from 19 November 2015 to 3 April 2016.

Camille Corot,
Marietta, the Roman odalisque
, 1843, oil on paper, 29 x 44 cm. Petit Palais, musée des Beaux-Arts de la Ville de Paris © Petit Palais / Roger-Viollet.
Hugo and love
PARIS - We all know he had a weakness –to put it mildly- for women! He had many affairs that were often passionate and even scandalous. He shared the favours of a courtesan – Alice Ozy - with his son and was accused of committing adultery with Léonie d'Aunet (known for her adventurous trip to Spitsbergen), which led to a brief stay in prison. Nevertheless, in spite of this aura, Victor Hugo was particularly chaste in his writings – in a century which really was not -, and just as much in his drawings. In order to bring back to life his erotic appetite, the exhibition had to go fish in other sources: some beautiful odalisques by Corot or Deveria, pompous nudes (Cabanel), marbles by Rodin and Pradier, daring water colours by Félicien-Rops and a few photos of ladies languidly reclining by Félix Moulin or Vallou de Villeneuve.
• Eros Hugo, entre pudeur et excès at the Maison de Victor Hugo, from 19 November 2015 to 21 February 2016.

Louis-François Cassas,
View of the City and Port of Trieste
, ink and watercolour, 24,6 x 40,6 cm. © London, Victoria and Albert Museum.
Cassas, mad about Italy
TOURS - Among the numerous artists who carried out their "Grand Tour" to Italy, we have Poussin, Lorrain, Fragonard, Géricault, Ingres, Corot, Viollet-le-Duc… But very few people think of Louis-François Cassas (1756-1827). In spite of his current deficit in popularity (partly due to his status of simple drawer), he was a remarkable traveller, spending a total of ten years in Italy. During his first stay (1778-1783), he went from Rome to Naples (where he witnessed an eruption of the Vesuvius), from Trieste to Sicily. During the second trip (1787-1792), coming from Turkey where he accompanied count Choiseul-Gouffier, the ambassador to Constantinople, he settled in Rome, where he married a local girl. His watercolours, though topographic, showed various atmospheres (monuments, landscapes), his participation to the Voyage pittoresque of the abbot of Saint-Non, the admiration from amateurs such as Goethe made of him a celebrity in his time. His reputation continues to grow, and some fifty of his sheets recently found in the English collection of Marquis of Bristol will represent half of the works shown.
• Voyages en Italie de Louis-François Cassas at the musée des Beaux-Arts in Tours, from 21 November 2015 to 22 February 2016.
BOOKS
The spirit of ruins
We know that a city can be scarred without its buildings suffering: Paris after 11 January and 13 November 2015 is the most recent example. But history shows us numerous examples where the psychological scar is accompanied by material destruction. Another contemporary case comes to mind, that of Palmyra. The publication of the proceedings of a conference in 2013 at the Louvre arrives at the right moment for it studies the image of the city in ruins– its representation by painters, its symbolic interpretation by poets, its use by politicians. From the ransack of Carthage (146 B.C.) to that of Rome (1527), to the end of Pompei (79 B.C.) to the one of Dresden (1945), ruins have always caused horror, penitence, compassion, as well as a meditative melancholy, like in the paintings by Hubert Robert, or national exaltation, which was the theme of the cathedral of Reims bombed by the Germans in 1914. They remind us that cities are mortal and that their residents are regularly confronted to scenes of desolation.
• Villes en ruine, directed by Monica Preti and Salvatore Settis, Hazan, 2015, 320 p., €35.
Buy that book from Amazon
OPENINGS OF THE WEEK
BENOIT HUOT - Culte
19 November 2015 - PARIS - Galerie Eva Hober
An interrogation about what distinguishes us from animals
COLOGNE – The Cologne Fine Art fair, which covers all periods, from antiques to contemporary art, will be held from 18 to 22 November 2015.
LIANZHOU - The International photography festival will be held from 21 November to 10 December 2015.
PARIS – Pierre Bergé has pulled out 4 works from the auction of his library (orchestrated in various sales, the first on 10 December 2015 at Drouot) to donate to institutions or, as in the case of the manuscript of Nadja by André Breton, to sell it directly to the Bibliothèque nationale de France (estimate: €2.5 million).
SARCELLES - The 17th Biennale Internationale de la gravure will be held from 21 November to 6 December 2015.
SINGAPORE - The National Gallery, which has 8000 paintings and drawings by artists from Singapore and South-East Asia, will be inaugurated in the former building of the Supreme Court on 24 November 2015.