Art Of The Day Weekly
#427 - from 21 April 2016 to 27 April 2016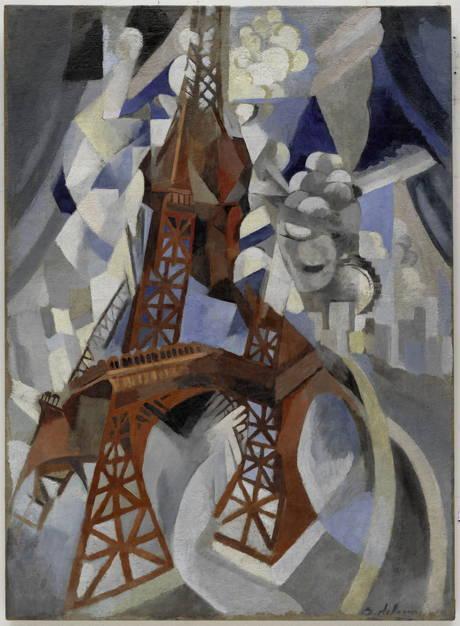 Robert Delaunay,
The Red Tower
, 1911–12, oil on canvas, 125 x 90,3 cm Solomon R. Guggenheim Museum, New York.
IN THE AIR
10 years and growing stronger
The newsletter you are about to read is number 427. In a time when things are obsolescent before they even are, we are rather proud of having maintained this weekly rhythm since exactly 10 years: indeed the first edition of this report dates back to 20 April 2006, and is still accessible for free online.To put this lapse of time into perspective, just think: the Musée du quai Branly had not yet been inaugurated, neither had the MuCEM in Marseille, nor the musée des Confluences in Lyons, nor the Maxxi in Rome or the Broad Museum in LA. In this moving landscape, this chronicle launched by Jacques Dodeman, which itself was the continuation of a weekly 'paper' version created in 2002, does not pretend to rewrite the history of art. It only hopes to shed light on a few significant events - which to boot are beautiful! - in the big merry-go-round of our times. We hope it will continue to satisfy you dear readers. Thousands of you have been following since its first eye opened. Thank you for your loyalty and off we go for another decade!
EXHIBITIONS

Marc Chagall,
The Soldier Drinks
, 1911–12, oil on canvas, 109,2 x 94,6 cm. Solomon R. Guggenheim Museum, New York, Solomon R. Guggenheim 49.1211 © VEGAP, Bilbao, 2016
When Paris was at the centre of the world
BILBAO – On Wikipedia, the list of painters from the 'Ecole de Paris' includes some 116 names. Needless to say the concept is rather wide: one only needed to meet two criteria, more or less, to be a member. To have a certain level of fame and to have worked – performed- in Paris in the first half of the XXth century(preferably among the avant-garde!). This is sufficient to be admitted and admired. The expression imposed itself all on its own, given the power of attraction the French capital had on artists from the world over. At a time where things are hard for migrants, we must recall that the Paris school group was mainly cosmopolitan. All these foreigners – Brancusi, Chagall, Pascin, Picasso, Soutine – had not been born with a gold spoon in their mouths nor had they come on the Orient-Express. The Guggenheim Bilbao presents a few of the stars of the group, taken from the collection of the parent institution in New York. They confirm that a series of names well know today, including Calder, Ernst, Gris, Kandinskij, Miró, Modigliani, worked relentlessly on the banks of the Seine, helping define Abstraction, Cubism, Dadaïsm, Surrealism, all the indispensable ingredients of modern and contemporary arts.
• Windows on the City: The School of Paris, 1900-1945 at the Guggenheim Bilbao, from 22 April to 23 October 2016.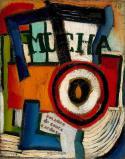 Amadeo de Souza-Cardoso,
Mucha
, ca 1915-1916, oil on canvas, 27,3 x 21,4 cm. Lisbon, CAM/Fundação Calouste Gulbenkian. Photo Paulo Costa.
Souza-Cardoso, a Portuguese fleeing star
PARIS – The coincidences of the calendar have the Grand Palais focusing on a representative of the Ecole de Paris who had been forgotten: Amadeo de Souza-Cardoso, born in 1887 and whose promising career was interrupted by the Spanish flu in 1918, which as we know was responsible for more deaths than World War I. His taste for emblems of modern life, such as machines, speed, advertising logos, his merging different tendencies (Expressionism, Cubism, Futurism, Orphism), his early use of the collage all make him a surprising personality. He was a friend of Brancusi and Modigliani, as well as of the Delaunays whom he befriended during their stay in Portugal. He was capable, when doing his landscapes, portraits or still lives of breaching the gap between the popular traditions of his native country and the most extreme avant-garde of the great years of Montparnasse of the beginning of the century.
• Amadeo de Souza-Cardozo (1887-1918) at the Grand Palais, from 20 April to 18 July 2016.

Marble statue of warrior, Akragas, Sicily, c.470 BC Museo Archeologico Regionale di Agrigento © Regione Siciliana
Sicily, unlimited wealth
LONDON - It was a cosmopolitan, multilingual island, that was home to people and religions from all over, which welcomed countless waves of migrants (mostly from the Middle East). There is no doubt a link of cause and effect: today it is one of the most awesome sanctuaries of art in Europe, a chronological line of nearly three million years with very few gaps. This is the history the British Museum has chosen to tell, starting with the Greek colonies who fled over-populated Asia Minor up to the Normand adventurers of the XIth century, including the major Roman and Arab periods. Many battles but mostly an infinity of masterpieces: blond temples, marble busts and bas-reliefs, Byzantine jewelry and mosaics, wood inlays and Islamic maps. It was too immense a mission to explore everything. So the exhibition left aside the Angevine, Baroque or Art nouveau periods. Palermo is only two hours away by plane: we can go complete the exhibit on site.
• Sicily at the British Museum, from 21 April to 14 August> 2016.
Mucha on the Tiber
ROME – He symbolizes Art nouveau in its femininity, its efflorescence, its relation with the theater and with newborn advertising: Alphonse Mucha (1860-1939), who built his glory in Paris, was at a time the most famous Czech in the world. The Vittoriano museum dedicates a retrospective to him, combining posters and paintings. From 15 April to 11 September 2016.
AUCTIONS

Lot 331, Michelot & Brémond,
Nouvelle carte de l'isle de Corce et partie de celle de Sardaigne
, Marseille, Laurent Brémond, 1719. 472 x 689 mm. Estimate : €800-1000.
Geography of days gone by
PARIS – We all remember the beautiful atlases of days gone by in sharpened colors, in elegant and readable typographies, with an excessive number of exotic reproductions (rye, brown coal, horses, rock salt, etc.). Today Internet allows us to zoom to our heart's delight, but we have lost the general view. A sale dedicated to Corsica allows us to remedy our nostalgia with numerous old maps, jewels brought back from an age when the World had the beauty of what is unlimited and blurry. Beautiful compositions by the Franciscan Coronelli from the end of the XVIIth century sit next to those by heirs of Homann, dOttens or the English specialist Thomas Jefferys. Michelot (l1719), shows an island that is slightly stacked, the lake of Biguglia communicates with the sea, and the North is to the West. We love these strange renderings of which we never see enough. But they are inaccessible!
Corse at Drouot-Richelieu, 27 April (SVV Tessier & Sarrou).
BOOKS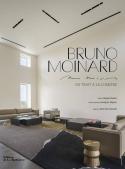 Moinard, the spirit of the venue
The list of his works make one's head turn: from the Plaza Athénée in Paris to a hotel boutique in Chengdu, a 1000 sq. meter apartment in London and the wine cellars of Château Latour. Bruno Moinard worked throughout a wide part of the globe, which seems almost easy when we realize he supervised the re-lifting of 340 Cartier boutiques! He had the best schooling, with Andrée Putman, and has a true science pf colored harmonies and of noble materials. Used bronze, silver iroko, polished pewter, golden sycomore, pleated staff, black laquer. One could almost write a poem in the style of Blaise Cendrars on this luxury exoticism. The book makes a census of some ten of his works that are widely and well illustrated. For your eyes only, for the book is inaccessible for most mortals.
• Bruno Moinard, du trait à la lumière, by Serge Gleizes, éditions de La Martinière, 2015, 208 p., Euros 60.
Buy that book from Amazon
OPENINGS OF THE WEEK
DAPHNE CHEVALLEREAU
21 April 2016 - PARIS - Galerie Polad-Hardouin
An art at the crossroads between Chagall, Frida Kahlo and Expressionism
IN BRIEF
BRUSSELS – Art Brussels, the modern and contemporary art fair, is held at Tour & Taxis from 22 to 24 April 2016.
BRUSSELS – The YIA Fair (Young International Art Fair) is held at 186 Louise, from 21 to 24 April 2016.
HYÈRES – The 31st Festival international de mode et de photo will be held at Villa Noailles from 21 to 25 April 2016.
PARIS – The Salon international du livre rare (rare book fair) will be held at the Grand Palais, from 22 to 24 April 2016.
PARIS – The Urban Art Fair is held at Carreau du Temple, from 22 to 24 April 2016.