Art Of The Day Weekly
#451 - from 1 December 2016 to 7 December 2016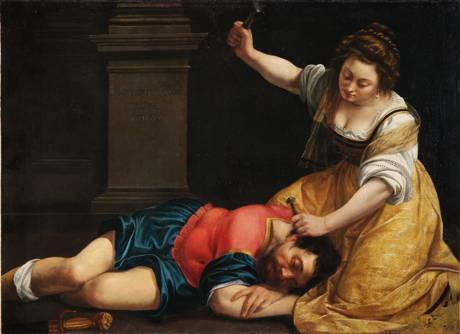 Artemisia Gentileschi,
Jael and Sisera
, 1620, oil on canvas, 86x125 cm, Museum of Fine Arts, Budapest.
IN THE AIR
Artemisia, the Frida Kahlo of the XVIIth century
ROME – Few women painters in the past have reached the reknown of their male counterparts. Louise Moillon, Clara Peeters (currently presented at the Prado), Rosalba Carriera, Elisabeth Vigée-Lebrun are some of them, at different degrees. In reaction to a successful movie and a very adventurous life, Artemisia Gentileschi (1593-1652) has recently confirmed her position as a top star in the club of the "happy few". She has been attributed the role of a feminist before her time, having had her rapist, painter Agostino Tassi, condemned in spite of the sexism of the court). She put her talent at the service of her father Orazio. But early on she followed a very independent path, travelling often, working in Rome, her native town, as well as in Florence and Naples, where she died. She developed a very personal version of Caravaggio style painting, often focused on heroines from the Antiquity. The exhibition follows her throughout these three capitals, where she produced the greater part of her work. Her art is vigorous, full of chiari-oscuri and glowing colours, before she even turned 40. She is presented with a few of the stars of her time, such as Allori, Vouet, Ribera and that painter whose name is a poem in itself, Antiveduto Grammatica (approximately "Grammar Preview"), who was the master of Caravaggio for a short period.
• Artemisia at Palazzo Braschi, 30 November 2016 to 7 May 2017.
EXHIBITIONS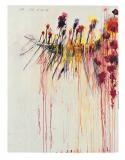 Cy Twombly,
Coronation of Sesostris
, 2000, Part V : Acrylic, wax crayon and lead pencil on canvas, 206,1 x 156,5 cm. Pinault Collection © Pinault Collection / Photo Robert Mc Keever
Twombly, in praise of scribbling
PARIS - Roland Barthes was one of his greatest admirers, and saw his "hand in levitation" and his "laziness" as what allowed him to "avoid the platitude of graphic codes". The work of Cy Twombly, made in signs, brushed or erased just as on palimpsests, writing that is generally impossible to decipher, enraged scribblings and colour drippings, is now admired and seen by the market and by museums as a major artist of the XXth century. Some of them feel a certain poetry, a spirituality, a mystery derive from them, that can be savoured like a deep emotion, doing quite well without explanations. Others only see it as an incomprehensible glorification of scribblings. The Centre Pompidou, with this retrospective of 140 works by the artist, gives the elements to finalize positions. We also discover a less-known aspect of this Lexington native (1928-2011), who became a major Italian bourgeois through his marriage to a Franchetti heiress: sculpture. These objects that were found, assembled, made into pedestals and covered with modest white paint, are ideally set up against the large glass opening with the Sacré-Cœur in the background. While Twombly was surely very cultivated, and had great knowledge of the past (he had come to Europe, attracted by Lascaux), we have a hard time agreeing with the curator when he presents the artist- in particular with his series on Emperor Commodus - as a renovator of historical painting. In his work, hermetism remains, all along his career, one of the fundamental characteristics. With this artist, like with ancient mysterious religions, it is very important not to understand everything.
• Cy Twombly at the Centre Pompidou, from 30 November 2016 to 30 April 2017.
THESE EXHIBITIONS ALSO OPEN THIS WEEK
Morellet and his friends
CHAMBÉRY - The work of this minimalist artist who bowed out last spring at the age of 90 is exhibited here with his friends, among them Max Bill and Elsworth Kelly. Remember to look up at the façade to discover one of his works, , Le Fantôme de Malevitch, which has been nestled there for two years. At the musée des Beaux-Arts, from 3 December 2016 to March 2017.
Mirrors
LENS – It was indispensable for Lewis Carroll and the Grimm brothers (cf. Snow White) but it has also been very useful to artists to enlarge space or play with reflections and identity. We are referring to the mirror, which entered our language eight centuries ago. The exhibition is very original by the fact that the nearly thirty works in the exhibition all come from local collections, the new region, les Hauts-de-France. At Louvre Lens, from 3 December 2016 to 18 September 2017.
Matisse, the internal laboratory
LYON – In the context of the celebrations of the 40th anniversary of the Centre Pompidou, this exhibition brings together 300 drawings by the master of modern art, from the academic works by a belated youth, up to the great brush drawings from the 1950s. The organisers of the exhibition did not miss this opportunity to remind everyone that Matisse won nearly 15 years of life –he passed away in 1954 - following a "miraculous" operation of the liver in 1941, at the clinique du Parc, in Lyon. Surely something to be proud of! At the musée des Beaux-Arts, from 2 December 2016 to 6 March 2017.
Maestro Mateo
MADRID – Some of his colleagues were not as lucky to see their names go down in history. He simply bequeathed the expression "Master Mateo". He could have the right to universal recognition as the greatest sculptor of Spanish Romanesque art, in particular the statues of the cathedral of Santiago de Compostela and its famous Pórtico de la Gloria. Fourteen of these pieces, some of them recently restored, are presented here. At the Museo del Prado, from 29 November 2016 to 26 March 2017.
Presumed guilty
PARIS – They were witches, murdered with poison, performed abortions, committed arson or were sold to the German enemy. In brief, they were all guilty. It was not good to be suspected of committing these crimes or to be the target of public rumours: lynching was not an American specialty. The exhibition is based on the stripping of a vast number of documents: 320 interrogations over six centuries. At the Archives nationales, from 30 November 2016 to 27 March 2017.
Parties and entertainment at Versailles
VERSAILLES – One can feel a certain air of nostalgia for royalty, for the Ancient Regime, for traditional values. The exhibition will surely thrill those who believe things "were so much better before": it describes the expensive procedures the Sun King invented to keep the members of his Court under a spell by organizing a permanent party at Versailles. At the Château de Versailles, from 29 November 2016 to 26 March 2017.
AUCTIONS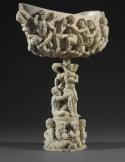 Lot 75: The Rothschild Nef, attributed to Georg Pfründt (circa 1603-1663), Southern German, 17th century, ivory, 38.2x31.7cm.
They sculpt rhinoceros, don't they?
LONDON – The origin of this exceptional object takes us back to the XVIIth century and its passion for cabinets de curiosités. Everyone raved about the masterpieces of Nature or of human virtuosity. This one combines both: an exotic basic material (ivory) and the work of a worthy sculptor from Franconia, Georg Pfründt (1603-1663), who for a time worked in Paris. This chiseled cup also reminds us of a very different period and another place: the mundane jet set of the post WWII period. It actually decorated one of the most beautiful residences in Paris, the hôtel Lambert on the île Saint-Louis. At that time lavish parties were thrown, such as the bal des Têtes (ball of Heads) in 1956, where Zizi Jeanmaire rubbed elbows with young Yves Saint Laurent a novice decorator, or the Oriental ball in 1969. The master of ceremonies of the venue was baron Alexis de Redé (1922-2004), a polymorphic character who had been set up there by his lover, Chilean billionaire Arturo López-Willshaw. When the Rothschild (Guy and Marie-Hélène) bought up the 'townhouse' they continued to house their friend there. They even sold a part of their collections together, in May 1975 in Monaco: it was then that the object was bought by an unexpected collector, the pension fund of the British railways. While the memories of costume balls and Surrealist evenings at hôtel Lambert (now owned by the Qatar Emirates) disappear into smoke, the cup stills carries the perfume of a time of glamorous niceties.
• Old Master Sculpture and Works of Art at Sotheby's London, 6 December 2016.
BOOKS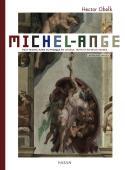 Focus on Michelangelo
The subtitle fills a whole line but is quite explicit: "All Michelangelo or almost in one single story and 1000 images". Based on his close relations with the masterpieces of the enfant terrible of art (he had the privilege of riding a cherry picker to see the works up close on the ceiling of the Sistine Chapel), the author describes them to us in detail. He has no qualms in noting the artist's weaknesses, in the folds of the Doni tondo for example, and sees Michelangelo fundamentally as a sculptor, even when he paints. This means one has to turn around the statues, decipher the muscles, tendons and un-imagined movements of the anatomies. We learn of the ways of the famous chiasma for the famous hip movement and we see eloquent close-ups, such as the teeth inside the mouth of his Bacchus from 1496 and wonder how Michelangelo sculpted them. This visit presents itself like a comic strip. But it is also a travel guide, thus confirming Michelangelo is a continent all to himself.
• Michel-Angel by Hector Obalk, Hazan, 96 p., €25.
Buy that book from Amazon
IN BRIEF
MIAMI - The Art Basel Miami Beach fair is being held from 1 to 4 December 2016.
PARIS - The pistol which Verlaine used to shoot Rimbaud fetched €360,000 at auction at Christie's against an estimate of €50,000 (see our newsletter of last week).
OPENINGS OF THE WEEK
POL PIERART
3 December 2016 - PARIS - Galerie Bernard Bouche
An artist that mixes painting and letters