Art Of The Day Weekly
#506 - from 15 March 2018 to 21 March 2018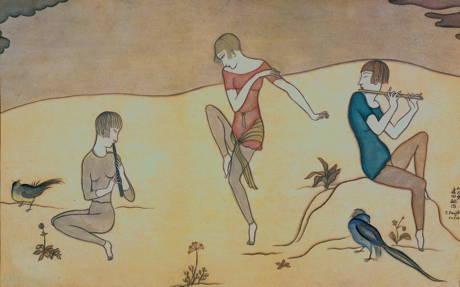 Léonard Tsuguharu Foujita,
The Dance
, 1917, watercolor on paper, private collection, © Fondation Foujita / Adagp, Paris, 2018 Photo : © Archives artistiques
IN THE AIR
Four stars of the 20th century in Paris
Between two major exhibitions like the recent one on Gauguin and the one that will open soon on Picasso's Guernica, we are given the opportunity to celebrate some less- known artists of the 20th century. The Grand Palais knows how to set up a show on certain artists that are risk-proof as far as the attendance is concerned: as an example the recent one on Rodin. But at other moments it knows how to step out of the box and invest in more adventurous projects, such as the exhibition of Portuguese artist Souza-Cardoso in 2016. It will be the case again with another champion of the avant-gardes, a native from Bohemia but who met success in Paris, Kupka. Three other practically contemporary comrades in arms – Aalto, Sander and Foujita – will make us relive the audacities of a creative and violent century.
EXHIBITIONS

František Kupka,
Cosmic Spring II
, 1911-1920, oil on canvas, 115 x 125 cm. © Adagp, Paris 2018 © National Gallery in Prague 2018.
Rediscovering Kupka
Like many of his friends from the avant-gardes, Kupka sailed between figurative and abstract representation, touching symbolism, cubism, futurism, expressionism and even "mechanism", according to an expression coined in the 1920s. Nevertheless, in spite of his experimental character and his great talent as a pure colorist, the Czech artist Frantisek Kupka (1871-1957) has never reached the notoriety of Picasso, Klee or Derain. Following the retrospective organized by the musée d'Art moderne in 1989 on his work, this new one could make him rise in the popular pantheon of 20th century art, and of the artists who adopted France as their country. Like his friend Mucha, he was indeed as much at home in Paris as in Prague. He actually spent the last years of his life in Puteaux –in the Paris suburbs- and died there one year after Alfred Barr, the great wizard from the MoMA, bought some of his works. Some of them are among the three hundred shown in this exhibition.
• Kupka at the Grand Palais, from 21 March to 20 July 2018.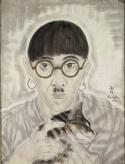 Léonard Tsuguharu Foujita,
Portrait of the artist
, 1928, oil and gouache on canvas, Paris, Centre Pompidou - Musée national d'art moderne - Centre de création industrielle © Fondation Foujita / Adagp, Paris, 2018 - Photo © Centre Pompidou, MNAM-CCI, Dist. RMN-Grand Palais / Jacqueline Hyde
Foujita, the cosmopolitan Japanese
Round glasses, a bowl haircut, a small ridiculous mustache, which a certain dictator turned completely un-recyclable, and a cat permanently nested on his shoulder: this is the composite picture of the most famous Japanese in Paris in the period between the two wars. Even though Foujita (1886-1968) lived in France up to his demise, his period of the Roaring Twenties is what the public continues to identify him with. This exhibition explores it by bringing forward his preference for white, and his clear-cut brush stroke. His wife Youki, Suzy Solidor and Kiki, his friends Zadkine and Kisling are all present – all regulars of the Coupole and the Jockey! Loans from 45 institutions surround the large panels of the Combats, which were meant to ornate the House of Japan in the Cité universitaire of the Paris University campus, portraits and religious themes. No surprise from the artist who converted to Catholicism in 1959 and was busy creating a chapel in Reims at the time of his death.
• Foujita. Peindre dans les Années folles at the musée Maillol, from 7 March to 15 July 2018.
Aalto, soft modernism
Alvar Aalto is probably one of the most internationally famous architects of the 20th century. The Finn had a long career (1898-1976), which is represented here with his models, designs, and photos, which all retrace his compositions in volume: his buildings of course, among them the sanatorium of Paimio, the master work of a young architect barely 30 years old. His objects as well– armchairs or vases – that show his obsession with a very refined design in which form follows function. He only designed one project in France, the house of collector Louis Carré in Bazoches. But he developed an international career that whisked him off to Italy, Germany, to Iraq, and to Iran for projects that unfortunately were never carried out.
• Alvar Aalto. Architecte et designer at the Cité de l'Architecture, from 9 March to 1 July 2018.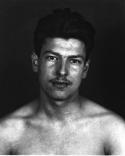 August Sander,
VI/44a/7, Political Prisoner [Marcel Ancelin]
, Portfolio VI/44a — The Great City, Political Prisoners, 1943, silver print, 1990. © Die Photographische Sammlung/SK Stiftung Kultur – August Sander Archiv, Cologne; VG Bild-Kunst, Bonn ; ADAGP, Paris, 2018. Courtesy of Gallery Julian Sander, Cologne and Hauser & Wirth, New York.
August Sander, the good and the bad
He stamped his name on a large social fresco of the Republic of Weimar. In the Men of the 20th century, August Sander (1876-1954) took the portraits of urban bourgeois, social butterflies, peasants on a spree, bakers, and brick layers. In the tense context of the rise of totalitarianism and anti-Semitism, a part of his work also shows the two faces of a German society that was in decay, and which are the backbone of this exhibition: the Nazi persecutors and the persecuted, Jews and communists, among them his own son Erich. He too was put into prison, and loyal to his genes, would become a prison photographer. August Sander, as a tribute to his son who died in 1944, integrated his photos into his own project.
• August Sander. Persécutés/persécuteurs at the Mémorial de la Shoah, from 8 March to 15 November 2018.
BOOKS

A champion in drawing
His drawings of wood veins are almost as remarkable as those by Asher B. Durant, the American, 19th century landscape artist. But Philippe Comar, a professor at the school of Fine Arts in Paris, knows how to apply that same piercing look and that affirmed hand to subjects that were a lot more tortured, such as the guts and the monsters of the Dupuytren museum. He can develop a passion for motors, turbines, electro-resonators or take us on a visit to the handle bars of the cirque d'Hiver or the refuse treatment plant in Ivry. Even when the dentist is drilling away at one of his tooth, this compulsive drawer is still capable of sketching! Skeletons of animals, pyrites and jungles complete his surprising universe, which we can also discover at Villa Tamaris, at La Seyne-sur-Mer, until 22 April.
• Philippe Comar. Dessin contre nature, published by Tohu Bohu, 2018, 338 p., €35.
Buy that book from Amazon
OPENINGS OF THE WEEK
GÉRARD GAROUSTE - ZEUGMA
15 March 2018 - PARIS - Galerie Templon
An artist who looks for inspiration in mythology and the Bible