Art Of The Day Weekly
#517 - from 31 May 2018 to 6 June 2018

Dear reader, you are on the mailing list of our newsletters. On May 25, 2018, the EU General Data Protection Regulation has come into effect. We would be happy to keep providing you with our newsletters and we only use your data in that purpose, complying with the European Data Protection Directive. If you would rather prefer to unsubscribe, you can do it just by clicking on the Unsubcribe button below.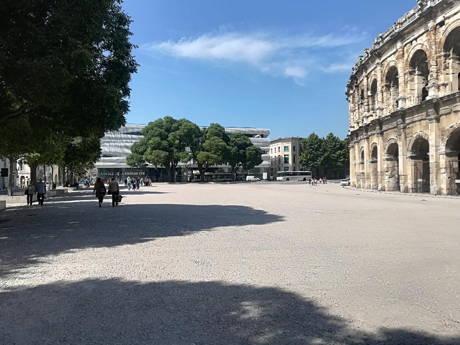 On the right, the Roman amphitheater. On the left, behind the trees, the new musée de la Romanité. Photo R. Pic.
IN THE AIR
Nîmes, the French Rome
NIMES – In any case, it is what the elected officials, the mayor included, declare: thanks to its ancient heritage, in particular its amphitheater, the Maison carrée and the tour Magne, the city in the Gard deserves the first place of "Romanity" in France. Its neighbors Arles and Narbonne could dispute this pretention, but the debate can at least have the possibility of being supported by quality institutions. While Arles has had its museum for the last two decades, Nîmes will be inaugurating its museum of Roman culture on Saturday, and Narbonne will have its own museum in two years. In Nîmes, Elizabeth de Portzamparc has produced a building that avoids analogies with the nearby panorama (the Roman amphitheater). Inside, the sarcophagus of Valbonne and the mosaics recently unveiled are in the right place, while the sanctuary of the Source, a true founding monument is partially rebuilt in a spectacular manner. Next to some masterpieces of statuary, these are the expressions of daily life (from a Gallo-Roman interior to coins and agricultural instruments that bring back to life a golden age that is two thousand years old).
The musée de la Romanité will be inaugurated on 2 June 2018.
EXHIBITIONS
Odilon Redon, a Symphonic painter
OTTERLO – That is how he qualified himself, as if to insist on his specific relation with music. Odilon Redon (1840-1916), a champion of Symbolism, the master of pastels, knew how to play the violin and the piano, and passionately admirer Wagner. The exhibition insists on this attraction – which we find in certain themes dealt with, such as Parsifal. But it is actually a community of interests: ancient inspiration, which pushes him for example to broach Salomé or Pégase, is parallel to that of composers of his time. But the curators are right to remark that the correspondence is not always obvious. With Redon it is more a state of mind, a game of synesthesia (very much in fashion at the end of the 19th century) as Baudelaire could embody. The different senses answer one another, and colors are associated to sounds.
Odilon Redon. La littérature et la musique at the Kröller-Müller Museum, from 2 June to 9 September 2018.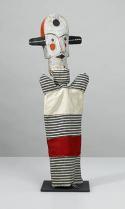 Paul Klee,
Untitled
(Clown with large ears), 1925, doll from puppet theater, 48 cm, Zentrum Paul Klee, Berne, Donation Livia Klee.
Universal Klee
BERNE – It has been nicknamed "Cosmos", but could just as well have been called "Universe". Indeed, the new exhibition at the Zentrum Paul Klee, with an impressive 40% of the artist's works, is presented as a fascinating, or piecemeal we could say, demonstration of the artist's unlimited interests. Only Picasso could have delved into so many diverse fields. Klee is known in particular for his abstract oil paintings, but he did many other things: he made puppets for his son Felix (some thirty puppets can still be seen out of the fifty he made between 1916 and 1925), he made a try or two at glue painting, oil painting, painting on glass, on a number of textiles – handkerchiefs, shirts, airplane canvases – he sprayed, scratched, and poached, among many other techniques. This unbridled inventiveness did not discourage forgers from suggesting counterfeit products, of which the museum presents an interesting series.
• Cosmos Klee at the Zentrum Paul Klee, from 1st June to 28 October 2018.

Zao Wou-Ki,
Hommage to Edgar Varèse - 25.10.64
, 1964, oil on canvas, 255 x 345 cm. Donation Françoise Marquet, 2015 Musée cantonal des beaux-arts, Lausanne © Adagp, Paris, 2018 Photo : Dennis Bouchard.
Zao from Paris
PARIS – Recent news concerning Zao Wou-Ki had more to do with inheritance fights than with matters of aesthetics. This exhibition focuses on the pictorial itinerary of France's number one Chinese man, who arrived in 1948 and spent his last years in the 14th district (arrondissement), not too far from Giacometti's workshop, his pivoting towards abstraction, in particular towards landscapes which he preferred calling "nature", and his preference for large formats.
• Zao Wou-Ki. L'espace est silence, at the musée d'Art moderne de la Ville de Paris, from 1stJune 2018 to 6 January 2019.
BOOKS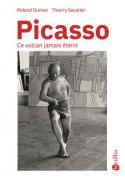 Picasso seen by Roland Dumas
Putting aside the members of his family, like his daughter Maya for example, he was one of the last persons to have been very close to Picasso. Born in 1923, Roland Dumas, the Minister of Foreign Affairs under President François Mitterrand, the president of the Constitutional Council, involved in various cases, such as the one linked to Elf, was the lawyer of the most famous artist of the 20th century before that. The relationship was built between 1965 (when the painter consulted him on the possible measures to be taken against Vivre avec Picasso, the book by Françoise Gilot), up to his demise in 1973. It was to Roland Dumas that Picasso entrusted the fate of Guernica, and authorized him to decide when the democratic conditions would exist for the painting to be sent to Spain. This book of conversations mentions this theme, as well as many others: the encounter between the two men thanks to Kahnweiler, the difficult relations Picasso had with his children born out of marriage (Claude and Paloma), his inheritance, etc. Dumas, just the same, confesses one thing: when Jacqueline Roque decides, after the death of Picasso, to burn his last works – female sexes – Dumas was the one who offered to strike the match.
• Picasso, ce volcan jamais éteint, conversations between Roland Dumas and Thierry Savatier, Bartillat, 2018, 220 p., €20.
Buy that book from Amazon
OPENINGS OF THE WEEK
3RD SCULPTURE BIENNIAL
2 June 2018 - ARTFAREINS - Château Bouchet
Third edition of this contemporary sculpture biennial in the French countryside