Art Of The Day Weekly
#518 - from 7 June 2018 to 13 June 2018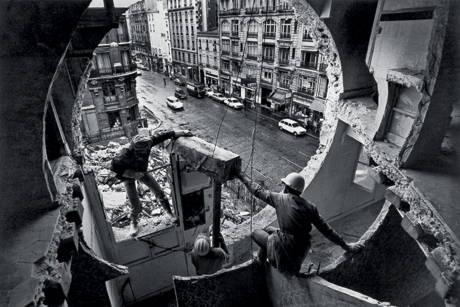 Harry Gruyaert,
Gordon Matta-Clark and Gerry Hovagimyan working at
Conical Intersect
, Rue Beaubourg, 1975
© Harry Gruyaert / Magnum Photos
IN THE AIR
And Matta-Clark dug up the city
PARIS - In 1975, just when the neighborhood of the Halles was been demolished in order to set up the future Centre Pompidou, a very special demolition team occupied a condemned building. They elegantly cut out the building's façade to make a huge, circular opening, letting us guess if it was to be a porthole, or an eye on the city. The creator of this work was Gordon Matta-Clark, the son of the Surrealist painter Matta, a graduate in architecture. He had chosen to carry out spectacular operations in abandoned or decaying sites, like in the Bronx, and using the sole force of his muscles, criticize urban planning in his time, in situ. The famous video that immortalizes the case of the Halles (Conical Intersect) is shown during this exhibition that summarizes the itinerary of Matta-Clark, who died too young, in 1978, at age 35, from cancer. It focuses in particular on his interventions in Paris.
• Gordon Matta-Clark. Anarchitecte at the Jeu de paume, from 5 June to 23 September 2018.