Art Of The Day Weekly
#518 - from 7 June 2018 to 13 June 2018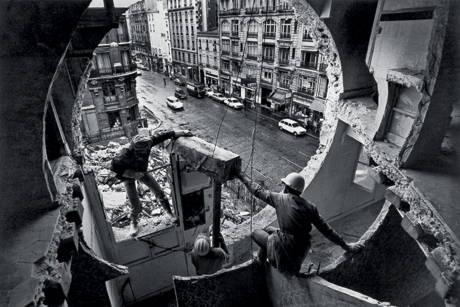 Harry Gruyaert,
Gordon Matta-Clark and Gerry Hovagimyan working at
Conical Intersect
, Rue Beaubourg, 1975
© Harry Gruyaert / Magnum Photos
EXHIBITIONS
Baselitz, questions about a body
COLMAR – 80 years, and still going strong – we could easily say. The German painter was celebrated all around, especially at the Fondation Beyeler in Basel, when he joined the honorable club the eighty-year old artists, but he has no intention of bowing out. As a matter of fact, this exhibition shows Baselitz's most recent productions, which remain abundant and "physical" (certain large formats are nearly 25 m2 large! Nevertheless, the nearly 70 works presented here, dated from the last four years, reveal a tormented artist who questions his own aging body. Aside from the great masters whose presence is very strong in Colmar (Grünewald of course, and his Altarpiece from Issenheim, as well as Cranach and Dix), Baselitz appreciates the architects Herzog and de Meuron, who designed the museum's extension, inaugurated in January 2016, as well as his own workshop on the shores of lake Ammersee in Bavaria.
• Corpus Baselitz at the Unterlinden Museum, from 10 June to 29 October 2018.