Art Of The Day Weekly
#518 - from 7 June 2018 to 13 June 2018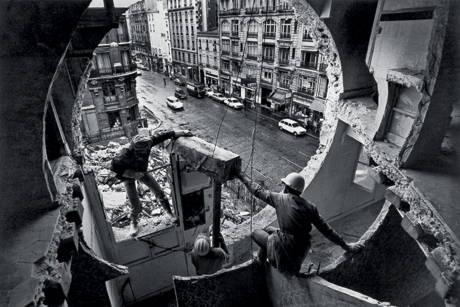 Harry Gruyaert,
Gordon Matta-Clark and Gerry Hovagimyan working at
Conical Intersect
, Rue Beaubourg, 1975
© Harry Gruyaert / Magnum Photos
FOUNDATIONS
Carmignac, art on an island
While the exhibition on Matta-Clark shows a radical criticism of architecture that influenced contemporary creators such as Frank Gehry, the Fondation Carmignac – recently inaugurated on the ultra-protected island of Porquerolles – shows how contemporary architecture is capable of successfully complying with drastic conditions. Regulations forbid all enlargements on the surface. The GMAA agency thus decided to go fetch the needed additional square meters underground, in order to present the roving presentation of nearly 300 works from the collection built up by financial tycoon Edouard Carmignac, and now led by his son Charles. The house was suspended in the air while the digging took place, and a source of light was imagined. The tenuous and trembling Mediterranean light filters through a glass plate covered with water, down into the white rooms where works by Lichtenstein, Warhol, and Basquiat – among others- are revealed to the visitor. Outside, under the pine trees, we encounter Hein's labyrinth of mirrors, Nils-Udo's marble eggs, Rondinone's chromed statues: another world. A long time ago, this same setting was the stage for Pierrot le fou by Godard, with Belmondo. Those were other times…
• The Fondation Carmignac was inaugurated on 1st June 2018.