Art Of The Day Weekly
#538 - from 10 January 2019 to 16 January 2019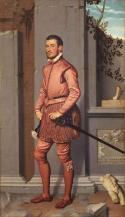 Giovanni Battista Moroni,
Giovanni Gerolamo Grumelli, The Man in Pink
, 1560, Oil on canvas 85 x 48 3/8 inches, Fondazione Museo di Palazzo Moroni, Bergamo - Lucretia Moroni Collection Photo: Mauro Magliani.
Moroni, a brilliant portrait artist
NEW YORK – A native of Bergamo, he is one of the representatives of the Naturalist current in the middle of the 16th century in northern Italy. His celebrity is not in line with his talent: his most famous painting– a tailor with his scissors (National Gallery of London) – is known by the general public, but who could really say who painted it? The exhibition, the most important in its type in the USA, has been set up with the support of influential personalities from Bergamo, could not be seen without including this work of art. But this exhibition of some twenty works of art will also include men in black with a sword on their side, religious leaders and thinkers, women carefully made up, all sitting. Except for one: Pace Rivola Spini (1575), considered the first female standing portrait in Italian art.
• Moroni. The Riches of Renaissance Portraiture at the Frick Collection, from 21 February to 2 June 2019.