Art Of The Day Weekly
#547 - from 2 April 2019 to 18 April 2019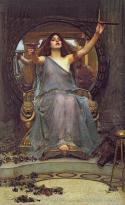 John William Waterhouse,
Circe offering the cup to Ulysses
, oil on canvas, 1891, Gallery Oldham © Bridgeman Images.
Homer 2.0
LENS – The ambition presented in the press kit is far from being modest: indeed, the aim of this exhibition, the largest ever dedicated in France to Homer, "is to answer a few questions, such as did Homer exist? When and where did he live". Jiminy Cricket! Are we really finally going to have the answers which everyone has searched for over centuries, and which various Greek towns like Samos, Chios, Colophon, Smyre or Ithaca have fought over for just as long? And after all, does anyone really want to know? Somehow the myth would lose its mystery, which remains throughout the exhibition. Antique marbles present the characters he made immortal, but with a modern addendum, presenting all the writers and artists who fed and developed on these same myths, from the baroque such as Rubens to the avant-gardes of the XXth century such as Chagall, including the Romantics and the Symbolists. Not to mention music, theatre and of course cinema with the afore mentioned Kirk Douglas, set up as Ulysses by Mario Camerini at the golden era of the peplums.
• Homère at the Louvre Lens, from 27 March to 22 July 2019.