Art Of The Day Weekly
#510 - from 12 April 2018 to 18 April 2018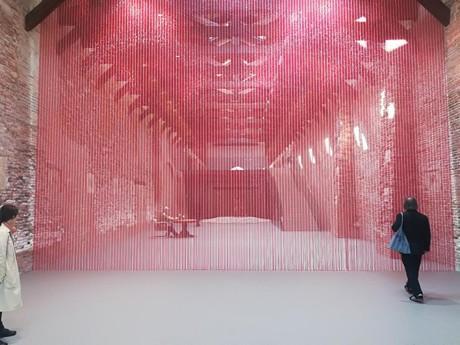 Inside Punta della Dogana, with the
Blood
curtain by Félix Gonzalez-Torres (1992). Photo R. Pic
IN THE AIR
Letter from Venice
The great poet Musset had once written "No boat moves in the red Venice". What would he write this spring of the Serene Republic, where the gondoliers can't move fast enough tot face the massive inflow of Asian tourists? Following the post-carnival lull, the city is picking up its usual speed. Piazza San Marco is crowded once again, as well as all the luxurious maxi-boutiques near the church of San Moisè. The Accademia bridge, built in 1933, is undergoing a complete face-lifting, as it is being wrapped up for a renovation, and tourists will need to wait until the month of June, if all goes well, to enjoy its characteristic silhouette. Obviously this absence will be greatly noticed when the Biennale of architecture opens on 24 May, and the debate on Venetian bridges will open once again. The Constitution bridge, designed by Calatrava, continues to be very slippery and this winter's snow was the cause of a new record number of falls. The energetic solution chosen by the city of Bilbao for its cousin- placing a non-slip rug- does not seem to appeal to the Venetians. A warning for tourists as they arrive from the parking lot: they need to be surefooted to face the cultural season in Venice.
EXHIBITIONS
Focus on Oehlen
VENICE – When exploring the artists included in the Pinault collection, this year's choice is this German artist born in 1954, who is not yet as well-known as his pairs and elders Baselitz, Immendorf or Penck – and mostly not as famous as Hirst, who received a tribute last year. The whole 3 000 m2 of Palazzo Grassi is dedicated to this artist, presenting a remarkable variety of works, from the nearly conceptual (the beverage Cofftea, the projection of the movie 9 ½ Weeks on one of his canvasses) all the way to purely figurative painting (in particular with some beautiful self-portraits), from spirited and colorful abstract art to repetitive motifs in black and white, inspired from binary codes, all the way to an installation, where we can see him as a doubtful painter, lying in a bed. It is impossible therefore to place this discreet artist in a box. And even less so under the specific conditions of the venue: "The magic of Palazzo Grassi is due to the fact that the light changes constantly, Caroline Bourgeois the curator, explains to the visitor. One never sees the same works!"
• Albert Oehlen, Cows by the Water, at Palazzo Grassi, from 8 April 2018 to 6 January 2019.

Rudolf Stingel,
Untitled (Alpino, 1976)
, 2007, oil on canvas, 335,9 × 326,4 cm. Pinault collection, courtesy of the artist.
The artist by himself
VENICE – The second pole of the Pinault universe is concentrated on a collective exhibition dealing with introspection, without it being a self-portrait – a fine distinction one does not easily comprehend. The artist uses his own self as his basic material: in this assemblage, which includes works from the Pinault collection and the Folkwang Museum in Essen, we find names we expect such as Nan Goldin, Cindy Sherman, Gilbert & George, Bruce Naumann. And others we do not expect as much, or even at all, such as the unclassifiable Marcel Bascoulard, from Bourges in France, a distinguished drawer and outsider artist, found murdered in his caravan in 1977, who loved to have himself photographed dressed up as a woman, or the Brazilian Paulo Nazareth. The video of Lili Reynaud-Dewar, all painted in black and dancing naked in a Joséphine Baker style is bewitching. But the work that will undoubtedly be the public's favorite is the wax figure of Urs Fisher, to be completely melted down after the exhibition.
• Dancing with Myself at the Punta della Dogana, from 8 April to 16 December 2018.
Music, about a wine-cellar
VENICE – We all know Zoran Music (1909-2005) for his Dalmatian horses, in earthly shades, his images brought back from the death camps as well as for his views of Venice, full of light and color. While his widow Ida Barbarigo just passed away last January, this small exhibition rebuilds a part of his work around a surprising object – the wine cellar near Zurich that he decorated at the end of the forties. The cycle was unglued with much difficulty and will now be preserved in a new transportable "room".
• La stanza di Zurigo. Omaggio a Zoran Music at Palazzo Fortuny, from 24 March to 23 July 2018.
Another Roiter
VENICE – He is known as the real "deus ex machine" of t carnival of Venice. The flamboyant images taken by this photographer made the great success of the unexpected revival in the seventies of this famous celebration of the 18th century. He drew glory – a grand prix in Arles in 1978- and wealth from it, but this fame put a veil over a first part of his career that remained completely hidden. Two years after his demise - 18 April 2016 - this exhibition in an intimate venue which previously showed Werner Bischof, focuses on his previous photographs – portraits, scenes of every day life in black and white, architecture, landscapes – that bring him closer Cartier-Bresson or the surprising corpus of Spanish photographer Carlos Saura, recently discovered.
• Fulvio Roiter at the Casa dei Tre Oci, from 16 March to 26 August 2018.
Ruskin as a drawer
VENICE – John Ruskin, the great theoretician of the Pre-Raphaelites and of Gothic art in particular combined theory and practice. His charming watercolors were never as charming as when they represented Venice where he spent long periods (11 trips over more than 50 years, from 1835 to 1888!). This exhibition, the first ever dedicated in Italy to his art – finally brings him justice.
• Ruskin. The Stones of Venice at Palazzo Ducale, from 10 May to 10 June 2018.
OPENINGS OF THE WEEK
BOOKS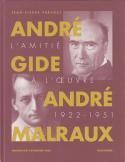 The axis Gide-Malraux
We think of Malraux so busy building his reputation and his legend that we tend to forget this great individualist also built lasting friendships. Contrary to the ones of our time that will only leave future generations wind and pieces of emails miraculously saved on a hard disk, the ones of the past, kept on good old paper, challenge time. This volume of letters exchanged between the hyperactive adventurer and his elder, more comfortable at home with the exception of his famous expedition to Congo and the mandatory trip to the USSR, proves it. From 1922 to 1951, until Gide's death, they wrote each other, met rue Vaneau, discussed literature (Malraux, who was much younger would become Gide's publisher at Gallimard), and fought a common battle against fascism. They proved they shared a lot more than a simple name. Note there will be an exhibition "Malraux, éditeur extraordinaire" will be held at the galerie Gallimard from 19 April to 19 May.
• André Gide et André Malraux. L'amitié à l'œuvre (1922-1951), by Jean-Pierre Prévost, 248 p., €35.
Buy that book from Amazon