Art Of The Day Weekly
#426 - from 14 April 2016 to 20 April 2016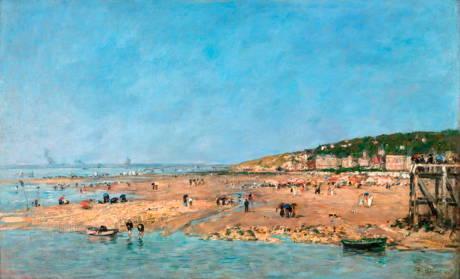 Eugène Boudin,
The Beach at Trouville
, 1889, oil on canvas, 55,6 x 90 cm. Nicosia (Cyprus), A.G. Leventis Gallery © A.G. Leventis Gallery, Nicosia (exhibition at musée d'Art moderne André Malraux, Le Havre).
IN THE AIR
Major Impressionist gathering
We had the bicycle Tour de France, the Six Nations tournament, the Paris marathon. All we needed was the Impressionists World Cup. The mistake has been corrected! The third edition (following the first and second in 2010 and 2013), of the festival "Normandie impressionniste" seems to have imposed itself as the reference in this domain. It covers a six-month period and includes 450 events (some of which, we must admit, have a very dim link to the movement initiated by Monet and his friends). It is expected to give life to the Avranches summer in Tréport and over 2 million admissions are expected. The theme of the portrait chosen this time will open the door to many contemporary creations. Out of the 153 exhibitors identified, we will be initiated to recent production by Orlan and John Batho. But we will also be allowed to enter the intimacy of the Caillebotte family at Bayeux, be back in touch with the great Boudin at Le Havre, and rediscover mediatized painters such as Frits Thaulow in Caen, Jacques-Emile Blanche in Deauville, Félix Buhot in Cherbourg, and Julien Féron in Le Havre. Impressionism and football have that in common: behind the big stars there are the second fiddles, which help maintain the level of the game.
• Normandie impressionniste, from 16 April to 26 September in several locations.
EXHIBITIONS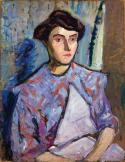 Jean Puy,
La Pétronille
, 1902, oil on cardboard, 68x52 cm, Pierre Troisgros Collection © All rights reserved / ADAGP-Paris, 2016.
Jean Puy, a Fauve artist rediscovered
MONTBÉLIARD – In the famous Fauve room back in the Salon d'automne in 1905, there was of course Matisse, Derain, Marquet and Camoin. But there were also other painters, now forgotten. One example in this regard is Jean Puy (1876-1960), who was in that "surprising room" where art critic Marcel Nicolle from the Journal de Rouen only saw "shapeless bright colours", with "no relation with painting". Puy profited from that scandalous echo, but his glory was short-lived: his Ambroise Vollard bought up all his works that same year. He could have been one of the stars of the XXth century. But as this exhibition reminds us, he quickly stepped out of the Fauve movement and after the war he first evolved towards caricatures and then towards intimate scenes– readers, still lives –, and preferred landscapes and ceramics. He passed away discreetly and isolated, in his native town of Roanne, thus contributing to his being forgotten. But this artist is worth re-discovering, in particular for his superb nudes without external lines of "spiritual and voluptuous grace" (Apollinaire).
• Jean Puy, plénitude d'un fauve, at the Musée du château des Ducs de Wurtemberg, from 9 April to 18 September 2016.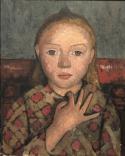 Paula Modersohn-Becker,
Head of a Blonde Girl with a Straw Hat
, ca 1904, tempera on canvas, 27x33,5 cm, Kunst- und Museumsverein, Wuppertal © Medienzentrum, Antje Zeis-Loi / Kunst-und Museumsverein, Wuppertal.
The tragic destiny of Modersohn-Becker
PARIS – A perfect contemporary of Jean Puy, Paula Modersohn-Becker (1876-1907) did not live the same long life but her influence was certainly more lasting. This native from Dresden merged very different influences, most of them picked up in Paris – from Cézanne to the Nabis, from Gauguin to Cubism – and became a sort of European Frida Kahlo. She was just as independent, also liked to experiment, had the same carefully chosen friendships (Rilke), and her destiny was also cut short (she died following the birth of her first child). The exhibition gives a wide vision of a very brief but very rich career (with a few hundred paintings), during which she easily went from portraits to landscapes, from still-lives to allegories.
• Paula Modersohn-Becker, l'intensité d'un regard at the musée d'Art moderne de la Ville de Paris, from 8 April to 21 August 2016.
ARTIST OF THE WEEK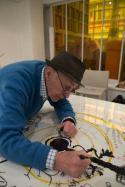 Jacques Villeglé working on his exhibition at MAMC Saint-Etienne © Jacques Villéglé. Photo : Yves Bresson / MAMC.
Villeglé at 90
He had said that "the invitation to the museum of Saint-Etienne was very intimidating". One could think that at the age of 90, one of the last survivors of New Realism, Jacques Villeglé, is no longer easily impressed. But the patriarch actually continues to be enthusiastic and disquieted like a young man. Like Caton, when he was past the age of 80, he looked into a new "social-political" vocabulary that combines the symbols of the dollar, of the swastika, of the sterling pound, of the star of David, etc. He now uses it to write his mural phrases. At Saint-Etienne, they are taken by Guy Debord and surround the central installation, a square -stele on which a replica of the Chaussée des corsaires, his first sculpture stands majestically. It is made out of wire and the original –from 1947 -is at the musée national d'Art moderne. A way of linking 70 years of creation under the very evocative title Mémoires.
• Villeglé is exhibited at the Musée d'art moderne et contemporain de Saint-Etienne until 22 May 2016.
• Also to be seen: the galerie Vallois inaugurates a second space on rue de Seine (75006 Paris) with an exhibition to celebrate Villeglé's 90th birthday, from 8 April to 13 May 2016.
OPENINGS OF THE WEEK
Thibault Laget Ro, EXODE
14 April 2016 - PARIS - Galerie Couteron
The hot issue of migrations treated in bright colours
BOOKS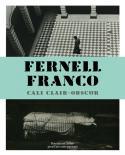 A lament for Cali
He lived in Versailles but without servants or grand fountains. Actually, it was Versalles, the Spanish translation that refers to a town in South Western Colombia. But young Fernell Franco (1942-2006) and his family had to flee the violence and emigrated in the fifties towards the closest large town, Cali. The young man was fascinated by the urban atmosphere and rode his bicycle –as a delivery boy- throughout its streets. He would spend his afternoons at the movies (nourishing his imagination with the Italian neo-Realists) or hanging around the old buildings the real estate boom had condemned to be demolished. Franco became a photographer and spent his life deciphering that universe –a number of architectural signs (patios, decaying walls, forged-iron staircases), social signs (billard clubs and salsa halls, soda bars, brothels). He enlarges his photos until he gets a blurry impression or he enhances the colours. He composes a real symphony to the big city, in a sprit similar to Berlin by Walter Ruttmann. His photographs are shown at the Fondation Cartier until 5 June 2016.
• Fernell Franco, Cali clair-obscur, Fondation Cartier pour l'art contemporain, éditions Toluca, 2016, 296 p., €40.
Buy that book from Amazon
IN BRIEF
BASEL - The Kunstmuseum inaugurates its new building, designed by Christ & Gantenbein on 17 April 2016.
COLOGNE – Art Cologne contemporary art fair will be held from 14 to 17 April 2016.
TOULOUSE – A painting of Judith and Holophernes, discovered in a castle, has been attributed to Caravaggio by expert Eric Turquin.
ON ART-OF-THE-DAY.INFO
This week, do not miss
ISA GENZKEN: MAKE YOURSELF PRETTY!
BERLIN - Isa Genzken (1948) is one of the most remarkable and radical artists of our time. This exhibition at Martin-Gropius-Bau presents the broad spectrum of her work, from her early films, drawings, ellipsoids and concrete sculptures to complex narrative collages and everyday items integrated into montages.