Art Of The Day Weekly
#482 - from 14 September 2017 to 20 September 2017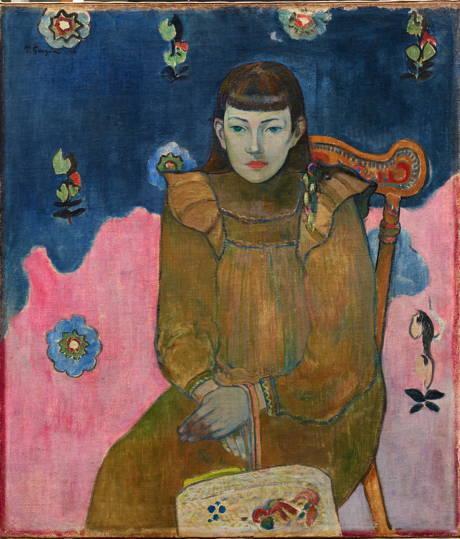 Paul Gauguin,
Portrait of a Young Girl, Vaïte (Jeanne) Goupil
, 1896, oil on canvas, 75 × 65 cm. Coll. Ordrupgaard, Copenhague © Ordrupgaard, Copenhague/Photo Anders Sune Berg
IN MEMORIAM
Jacques Dodeman, 1925-2017
Jacques Dodeman passed away on the last day of the month of August. He had a long and rich career, during which he was, among the many other interests he pursued, the founder of artaujourdhui.info. It was in September 2001 that Jacques Dodeman, with his usual youthful hot headedness and enthusiasm launched this new adventure. He was then 76 years old. At the time most museums were taking their first steps in digital practices. Yet he went in to starting a daily website on information on art, with an agenda that listed thousands of exhibitions throughout the world, through data bases fed by five, full-time archive specialists. He always had a passion for innovation and news technologies: it was he who started the current base of French edition, Electre, which surveys all books available. He had developed the first version in the 70s, on the big computers of the Ecole des Mines (the national school of mining engineering). He was also active with microfiche, as he worked relentlessly at miniaturizing and storing four hundred dictionaries of the French language, as well as the complete publications of the newspaper Le Monde. These are but a few of the chapters of a life that was worthy of a novel –though he would have scoffed at this description-. He did write it himself, in a book published in 2014, Mémoires de papier. Souvenirs d'un commis voyageur en culture française(Paper memories. Souvenirs of a traveling salesman of French culture). The reader will learn of his heavy responsibilities during the long twenty years at the Hachette publishing house, from 1950 to 1970, as well as the founding of the magazine Stratégies then Journal des Arts; of the production of movies that won prizes at Cannes, on the teaching of French. There was also his collaboration with the king of cheese, Androuet, for his kitchen recipes. There are so many anecdotes: as an adolescent he took part in the Resistance in Toulouse; in 1955 he was one of the first French men to set foot in Hanoi following the war in Indochina (to give out school books); he enchanted Philippe Soupault with a bottle of ordinary red wine, and ran into Nat King Cole during a cyclone In Hawaii. Many of these stories are serious, others less so. For those like us who knew him and regret his departure, we keep in mind and in our hearts the memory of a man with a strong character and with great intuition, an innovator, a man who was curious, inventive, and of great culture. The pleasure we had of sharing with him the adventure of artaujourdhui.info, where he remained involved up to his vey last years, comes together with the responsibility of ensuring the continuity of a website that is now 16 years old. A sweet little sixteen which has lost his exhaustive character but which now, in the current flood of information, aims at offering a clear, lucid, selective, and open perspective of the world. This is a rather detached and cosmopolitan vision of the world, which could be that of the "honest man" of our times. The honest man who Jacques Dodeman no doubt was.
• Jacques Dodeman, born on 5 February 1925 at Lamotte-Beuvron, died on 31 August 2017 in Paris.