Art Of The Day Weekly
#497 - from 11 January 2018 to 17 January 2018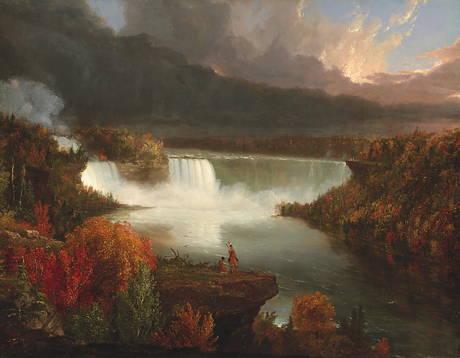 Thomas Cole,
Distant View of Niagara Falls
, 1830, oil on panel, 47.9 x 60.6 cm, The Art Institute of Chicago (exhibition at the Metropolitan Museum, New York).
IN FRANCE
Czech avant-gardes
BORDEAUX –The cultural ferment that bubbled in Eastern Europe between the two World Wars gave birth to a series of first-rate creators, in a great number of fields, from Kafka to Brancusi. This small exhibition focuses on a private collection in a very specific sector, that of artists' books in Prague, in the rest of Bohemia, and in Moravia in the first decades of the 20th century. These pieces show a great opening to the rest of the world, but not only. They demonstrate an unbridled graphic inventiveness, and unlimited imagination. Indeed, the robots, soon to be the subject of an exhibition at the Grand Palais, were baptized by a writer of that generation, Karel Capek.
• L'image-livre. Editeurs et artistes de l'avant-garde tchèque, at the musée des Arts décoratifs, from 25 January to 6 May 2018.