Art Of The Day Weekly
#497 - from 11 January 2018 to 17 January 2018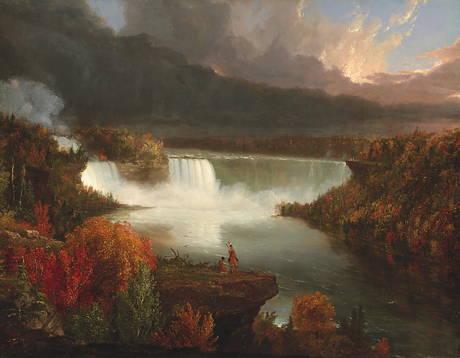 Thomas Cole,
Distant View of Niagara Falls
, 1830, oil on panel, 47.9 x 60.6 cm, The Art Institute of Chicago (exhibition at the Metropolitan Museum, New York).
IN THE WORLD
Michel Sittow, an Estonian
WASHINGTON – Not everyone can place Estonia on a map. And even the most educated would have a hard time mentioning the name of one single Estonian artist. Here is one whose name is worth remembering. The National Gallery wishes to pull him out of his anonymity, before the show travels to the Kumu museum in Tallin next summer. Michel Sittow, who lived from 1469 to 1525, was a native of Revel (former name of Tallinn), and had a true, world scope. He studied with Hans Memling in Bruges, and then followed a European career, producing portraits and religious paintings that pleased the monarchs of Aragon and Castille in particular. His production is limited to some forty paintings, spread throughout the world. Nearly half of his production is presented here, that is 16 paintings from 14 different towns and collections.
• Michel Sittow: Estonian Painter at the Courts of Renaissance Europe, at the National Gallery, from 28 January to 13 May 2018.